Crosspost from my LiveJournal Dress Diary 12/14/2012
So, I had a spur of the moment inspiration to create a zibellino. Okay, so the moment happened many weeks ago while I was in full panic mode getting the Lina Lamont dress done. Isn't that always the way? Knee deep in a must-get-done-right-now project and you are suddenly inspired to make something completely different? Ah well.
If you have no idea what a zibellino is, there is no shame in that. I'm just kidding. SHAME ON YOU! Here are a few links that explain better than I, so you won't embarrass yourself when it comes up in casual conversation in line at the grocery store.
http://en.wikipedia.org/wiki/Zibellino
http://www.larsdatter.com/zibellini.htm
http://commons.wikimedia.org/wiki/Category:Zibellini
http://scribalterror.blogs.com/scribal_terror/2008/03/not-a-dead-monk.html
http://bjws.blogspot.com/2012/02/1500s-women-draped-in-fur-pellets-with.html
http://www.google.com/search?q=zibellini&hl=en&tbo=u&tbm=isch&source=univ&sa=X&ei=M_enUIyZEqOBiwLf8oCgAg&sqi=2&ved=0CDYQsAQ&biw=1920&bih=1075
http://www.sablegreyhound.com/ZibelliniPicsAndInfo.html
oh, and my personal favorite, that amazing talented prolific astounding fabulous crazy Hastings Sanderson. WTH lady! Carving your own zibbi head from pink quartz! You make the rest of us look like lazy chumps. (Love ya!)
http://daughterofthebull.blogspot.com/search/label/rose%20quartz%20zibellino
Anyway, I have had this vintage fur stole in my possession for a few decades now. Long before I became interested in making Renaissance costumes. We've been through a lot together, me and these three little glamorous dead creatures. While I was making Venetian stuff, it dawned on me that I owned three little zibellini just ripe for the blinging and selling. Well, I could never bring myself to do it. I liked these little guys, they've been with me a long time and… and… I just didn't want to sell them. I was suddenly possessive of these little dead things. So, they sat in a box in the garage, and when I re-orged my sewing room, They hung on a coat hook on my wall. Staring at me. Wanting to be zibellini and wanting to be trotted about on the arm of a glamorpuss again. But, I still didn't want to sell them. So, they just hung and stared at me for a while longer.
Last year, I met a very cool lady named  at a costume seminar. Everyone there seemed to already be friends, SCA and whatnot, and I stuck out like a sore thumb. Not to say they weren't kind, every last person at that seminar was pretty damn awesome, but being an outsider I just resigned myself to be an outsider. No big. Well, for whatever reason, she befriended me and made me feel welcome in their community. It kinda helped that she was adorable and charming to boot. She helped me get involved right here on Livejournal last year, and since then I've enjoyed being her internet friend and following her story.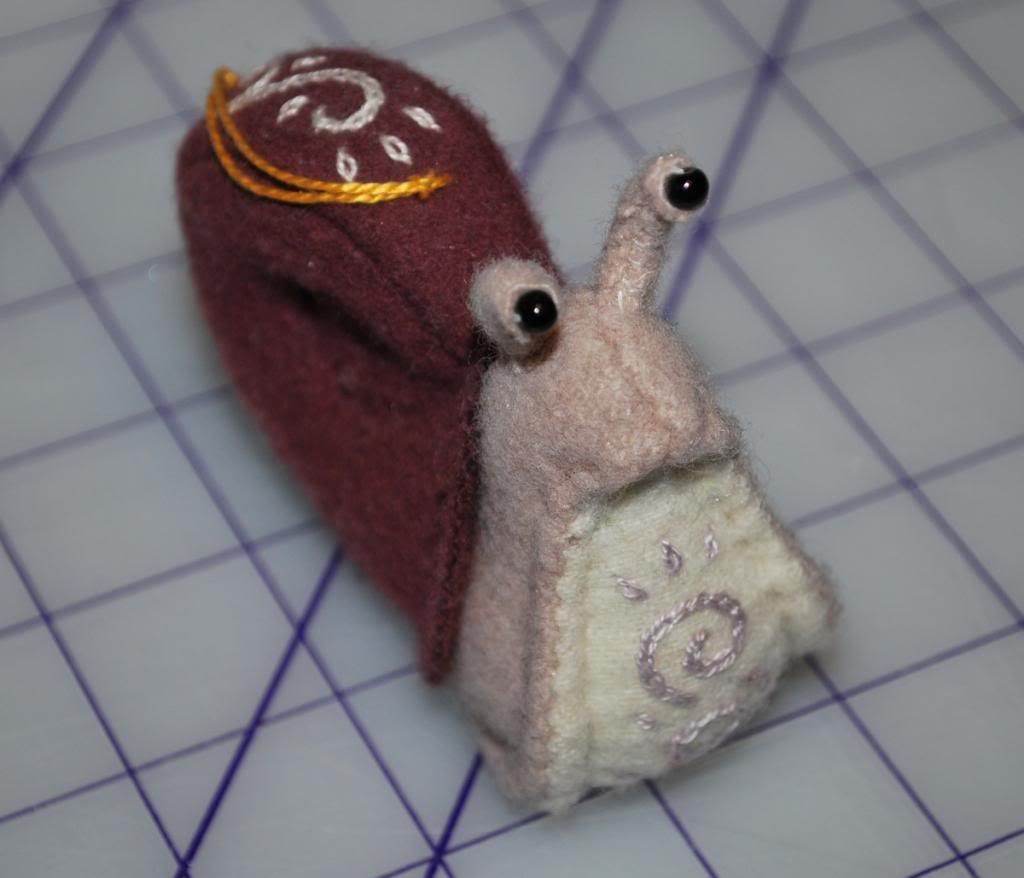 TOO ADORABLE
Last year, I received a surprise package in the mail at Christmastime. It was a darling, handmade, hand embroidered little felt snail ornament that mrqlaurellen had made for me. She didn't even really know me that well, but she sent me one of her wonderful wool felt critters. That made me feel very very happy. Since then, I have always wanted to make and send her something in return, but… what? What could I possibly offer an SCA Laurel, an SCA Baroness? Yeah, I got nothing. Well, recently she has been posting about her fancy new Elizabethan outfit and also her newest batch of critters she is making and sending to various lucky dog friends, and I again thought to send her something…
but what?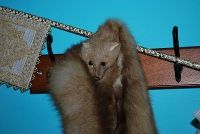 …something…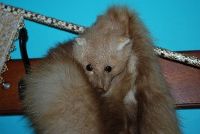 hmmmm…


what to make,what to make,what to make…


thinking…


AHA! I'll make her a zibellino!
Glad I thought of it. It's small, I have everything I need to bling one up, she is not anti-fur, and it will go well with her new Twelfth Night Elizabethan gown. And, after all, she IS a Baroness, elevating to Pelican. She can have a blingy zibbi. Right?
And best of all, I felt good about sending one of my glamorous dead creatures to live with her. I know it will be in good hands, and with someone who actually knows what it is. Hopefully she will like it, and hopefully she doesn't already have one. I am hoping that she will wear it to Twelfth Night with her snazzy new garb, but if she doesn't it won't hurt my feelings any. It is rather ostentatious and maybe she is more low key and "realistic" about her garb. I don't know. Even if he only sits in her sewing room and keeps her company while she ruffs away, well, that would be just perfectly fine too.
So, here are photos of how I turned part of an old 20th century fur stole into a 16th century zibellino: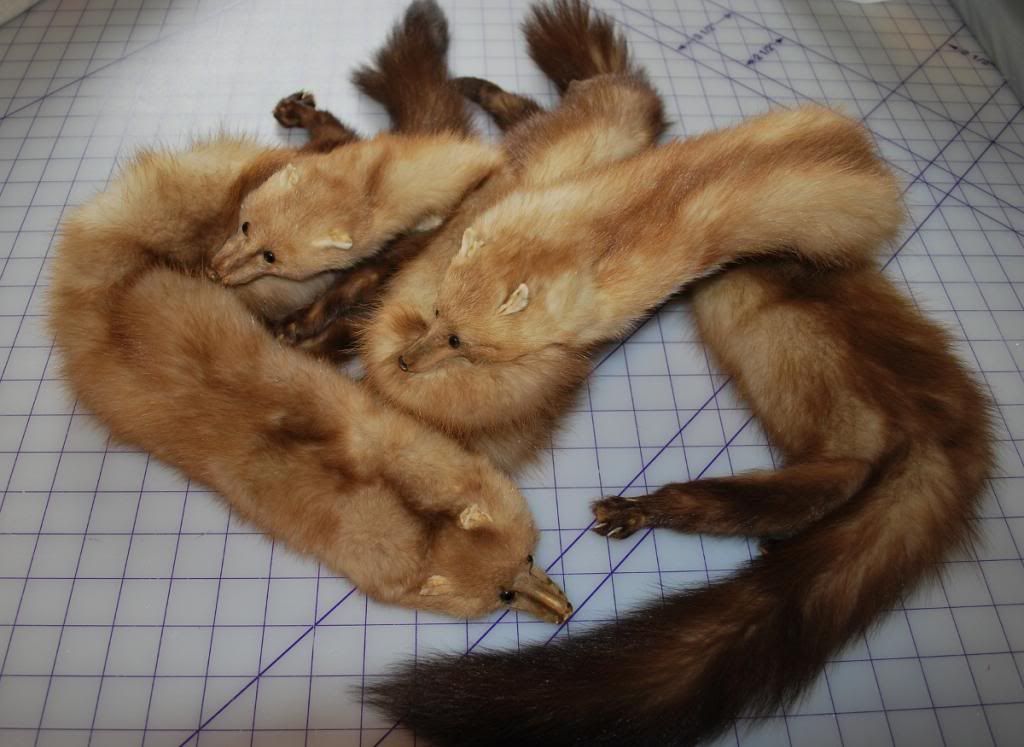 The three siblings that have been hanging with me for two decades.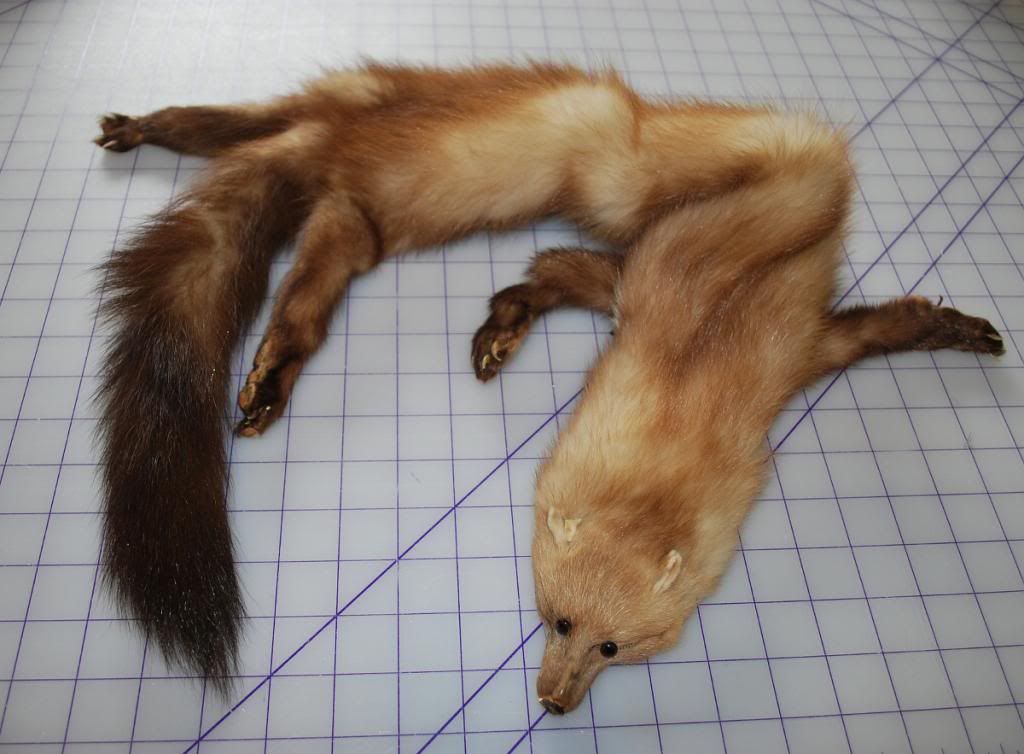 Liberating one. Dang, it's hard to photo these without looking like a sadistic weasel back breaker.
I have drawers full of little bejeweled bits, so it was no big thing to just start decorating this little guy. These aluminum filigrees have come in handy on many occasions; I used them all over my Venetian flag fan last year. They really did a fine job here, easy to work with and somehow seemed to morph into a single unit instead of just looking like loose squares hooked together.
Making a golden muzzle…
Slide his face right in!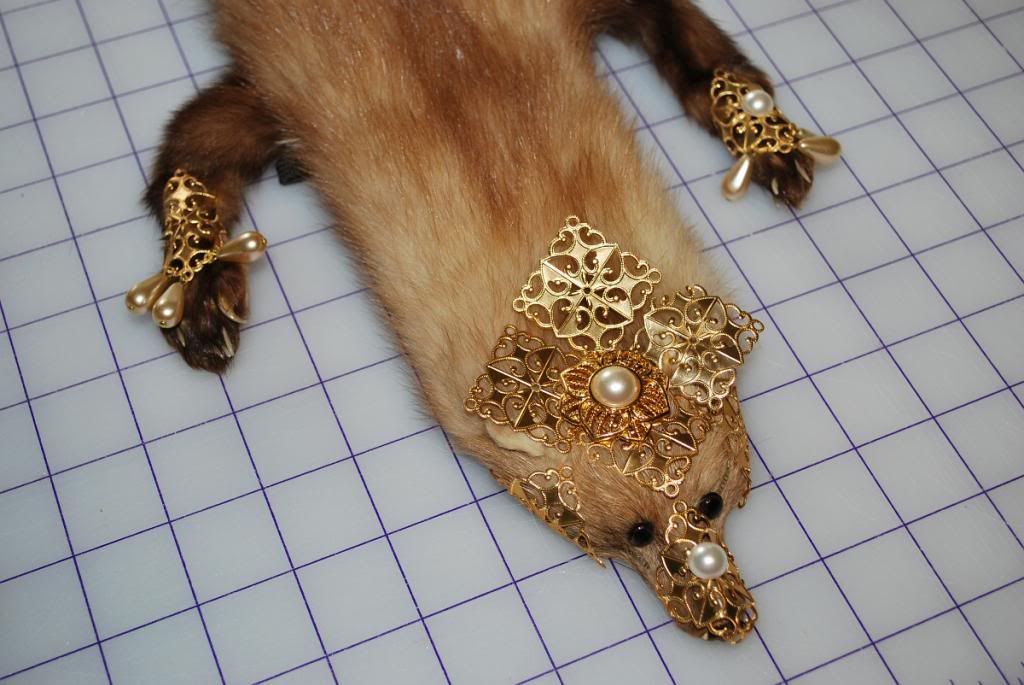 Monkeying around, where do I want what? Old earring? Nah. Pearls too big. hmmmm.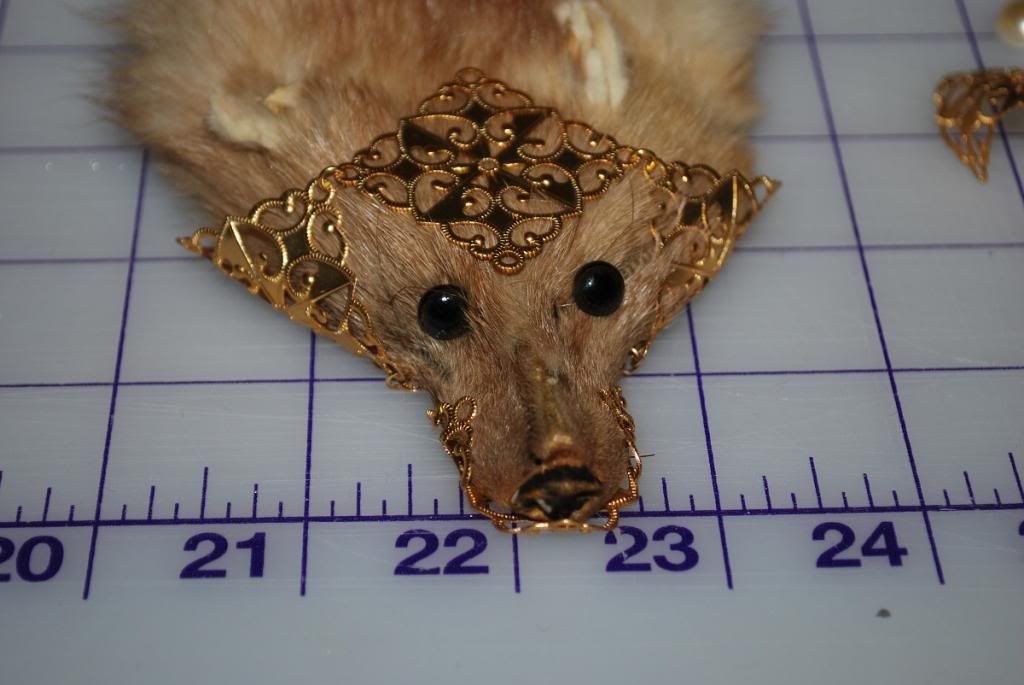 Getting better…
Sewing down strategic spots with invisble thread. (grumble grumble invisible thread is invisible wth wth! snarled up, cursing, get back in there, you!)
The filigrees are hooked together by itty bitty jump rings. It is loosy goosy on his face, so the pieces wiggle, but they are secure. I just couldn't dump glue on his head to hold them, and sewing through him was a bitch. So, it feels loose, but it's really A-OK.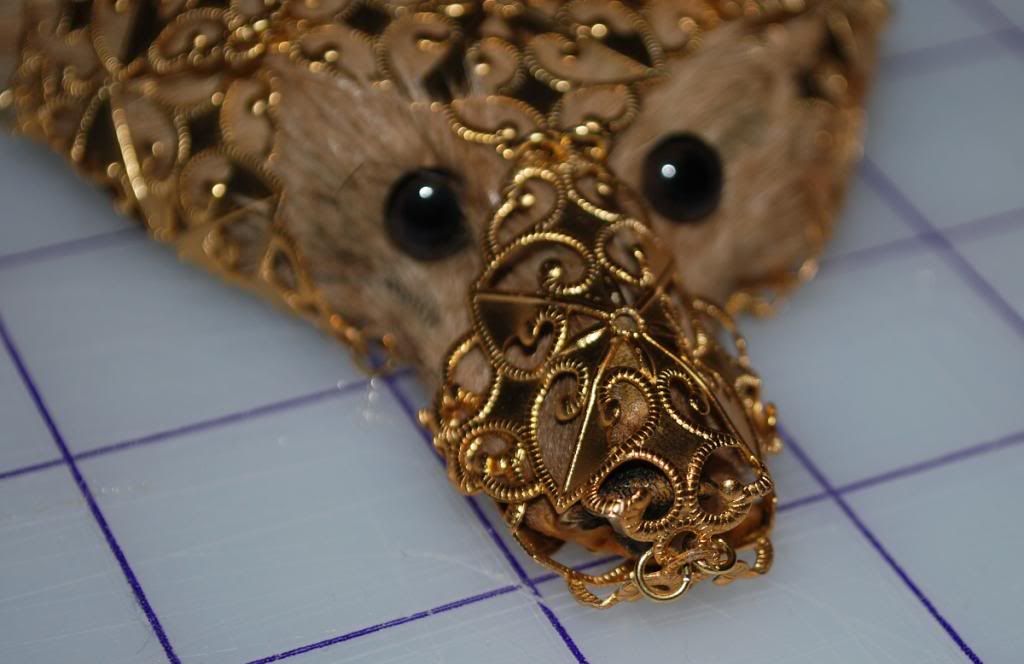 Ha ha the filligree accidently made him a little golden snout.
I love the fake ears. It was totally an accident, and I was like, hey! Not bad!
Pearl drops on the paws…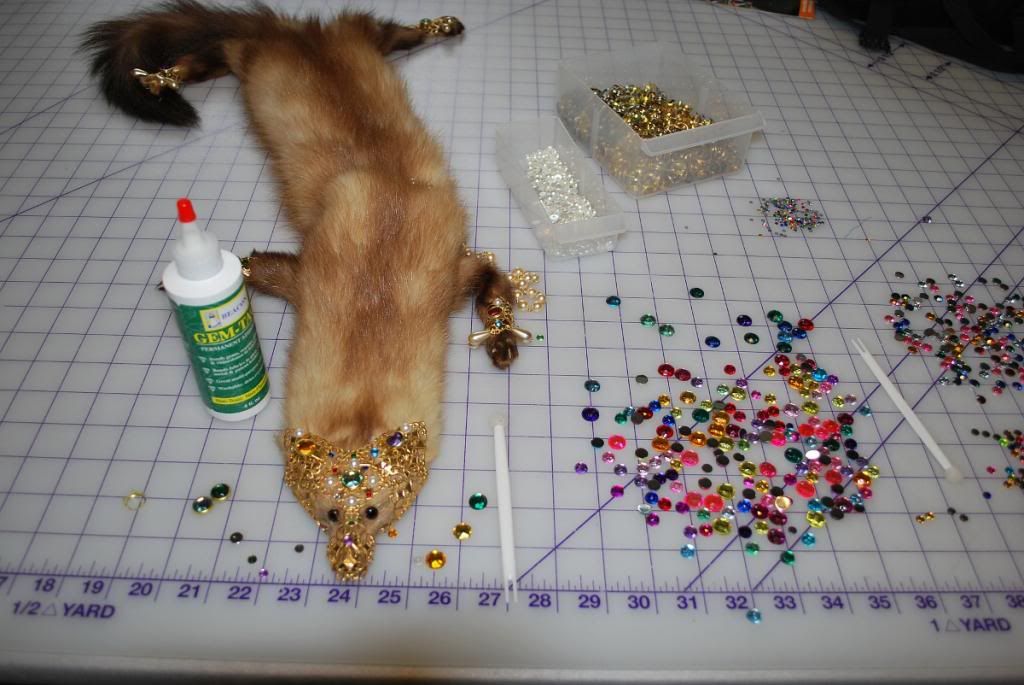 Could. Not. Stop. Bedazzling. I may need therapy. The stones I have on hand are actually super cheap ass acrylic stones. I was worried they would look too cheesy, and some of them do, but I think I did alright. I eliminated any color that looked, uh, fake. I mean, egads, look at some of those things! I wanted to use all precious looking stones, but man, those just looked sooooo bad. I plucked out all the ones that could pass for semi-precious at a distance– blue, gold & smokey topaz, garnet, peridot, amethyst– and some of the red and green looked good enough in the super tiny stones. But, well, it all worked out.
Oh, and: PSA! Don't buy acrylic stones from Michaels.  Jeez, those are the crappiest of the crappy ass stones. Like, I mean, they are so craptastic that they could not crap out worse looking stones. The Darice brand from Joanns is many steps above in quality as far as crappy ass stones go. Still crappy ass, but from a nicer looking ass.
Of course I had to allow the glue to dry naturally instead of tossing it in the dryer as I am wont to do.  This little guy is pretty old and fur really doesn't like heat. I'd have some 'splainin' to do to the dryer repairman why a dead animal exploded inside the drum and jammed up the works.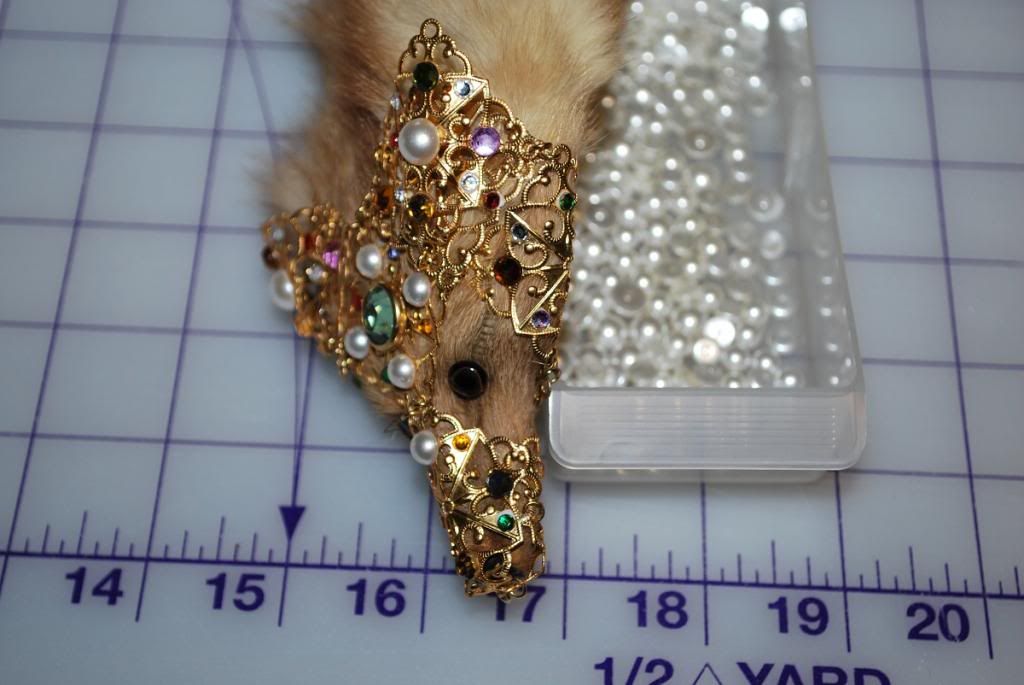 I am not the best user of glue. I just have no gluing talent, so it was a challenge for me to reconcile my insane love of bling with my low glue aptitude. But, I persevered! Even when static cling got involved and it was like Flea Wrangling with the little ones…I PERSEVERED.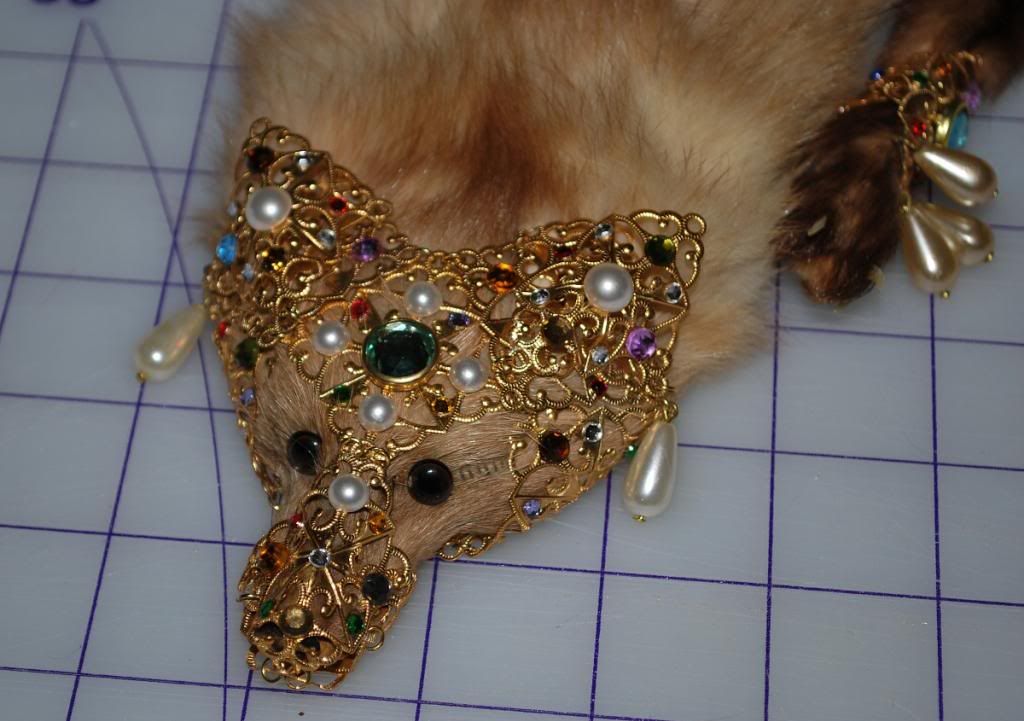 I had no idea that some zibbi wore earrings. Adorable! I knew right away I wanted this one to have earrings, too.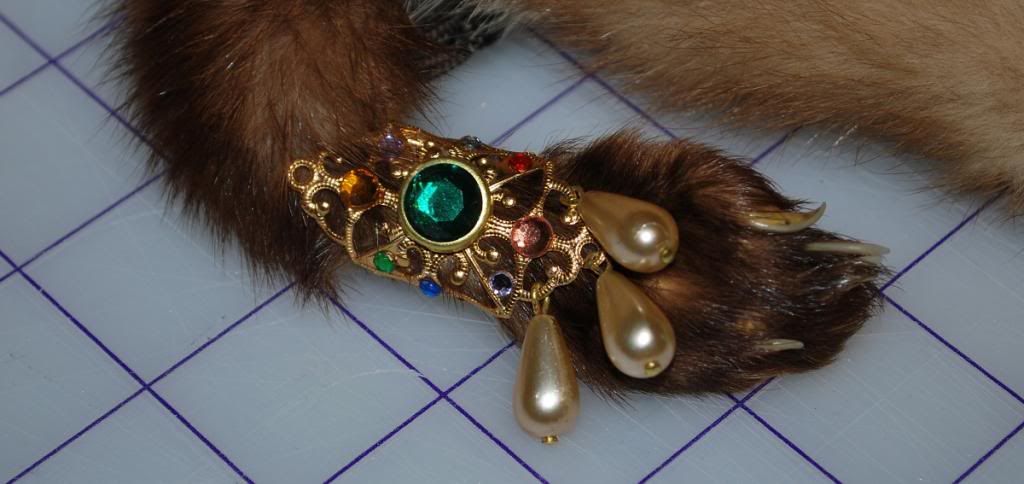 Gimme Five!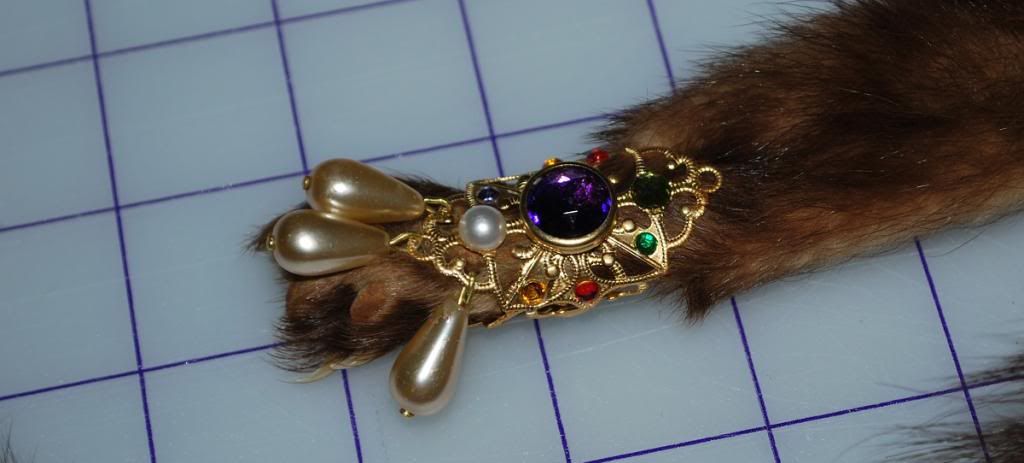 Slip me some skin!
Up High!
Down low!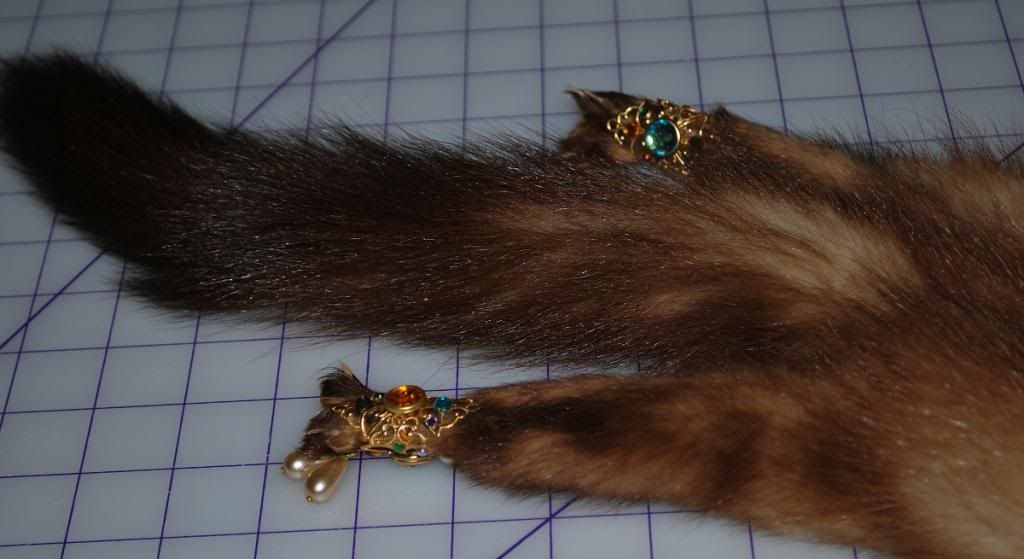 Too slow!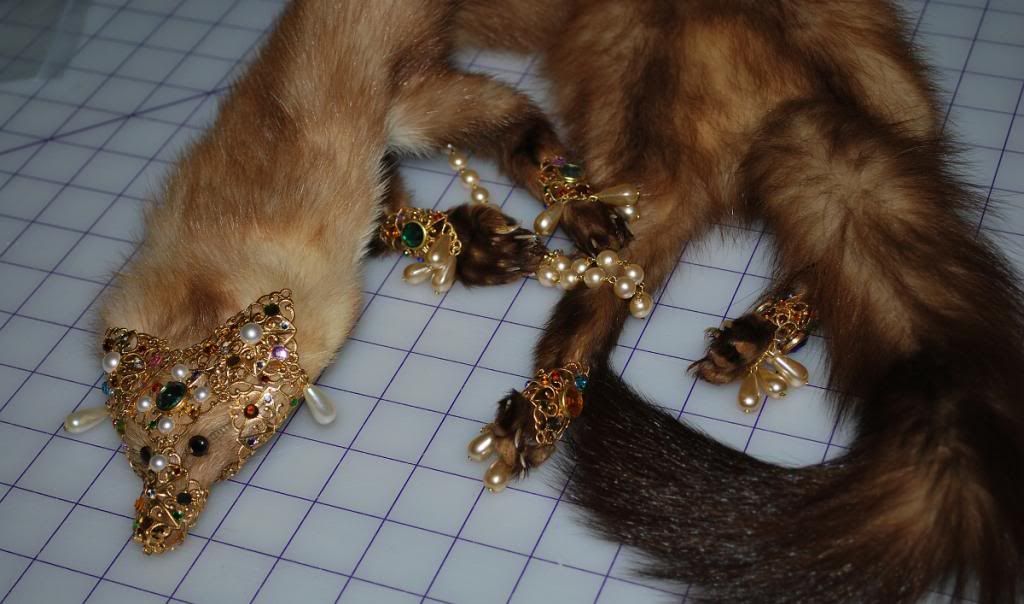 Every time my husband came into my sewing room, he bust out laughing. He called it my "Bling Rat" and was really very amused by it. He gets it, but he just doesn't get it. Regular people see a bling rat, historical costume lovers see zibellino!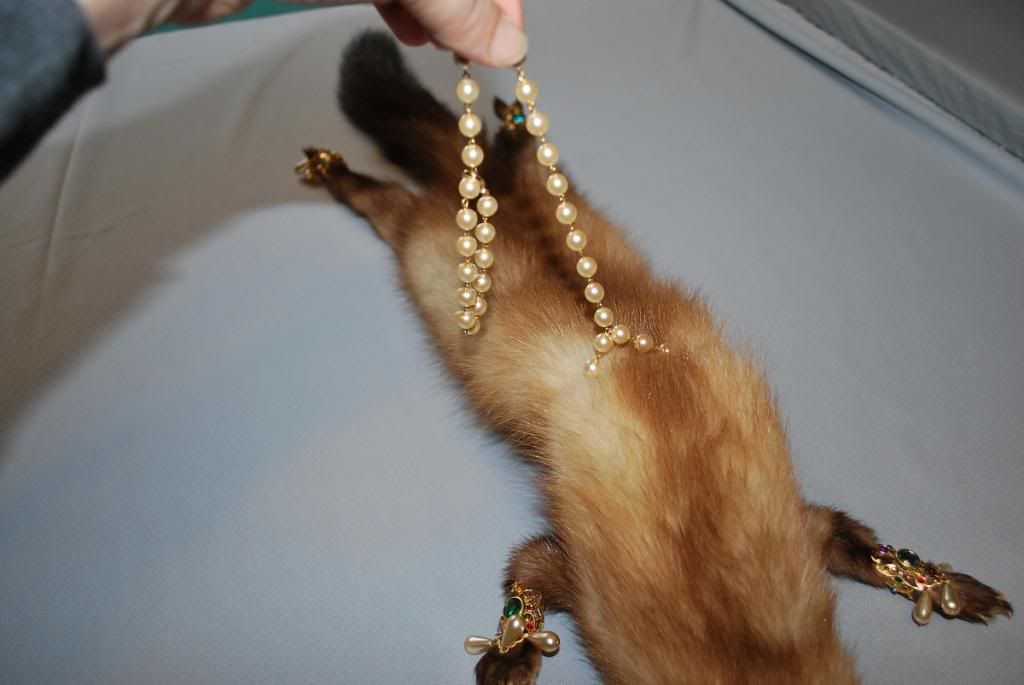 Many zibbis hung from the mouth, but I hung the chain from around its middle instead. I did this for a few reasons—one, it's an old thing, and the jaw is not really a strong point, it felt more stable being lassoed at the waist. Two, is a tiny lady, and it would likely drag on the ground if hung by the mouth from her belt. So, two considerations solved simply by hanging him from his armpits.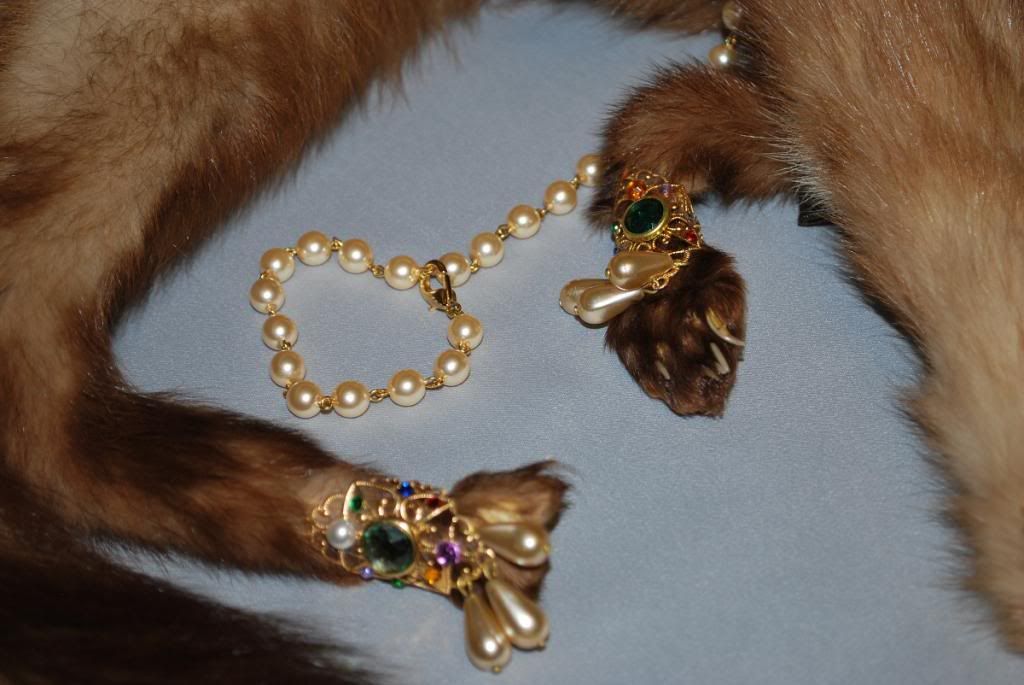 The leash is a brass and glass pearl chain, with a small lobster claw at the end to help it loop around her belt. I don't think it needs to be very long, but if more length is needed I can just pop it in the mail to her, no biggee.
I know the stones are cheap'n'cheezy, but I tried to make it random and blingy enough to trick the eye at a distance. I think I did alright! It looks like a proper zibbi unless you get all up in its grill. It should bite you if you do that anyway.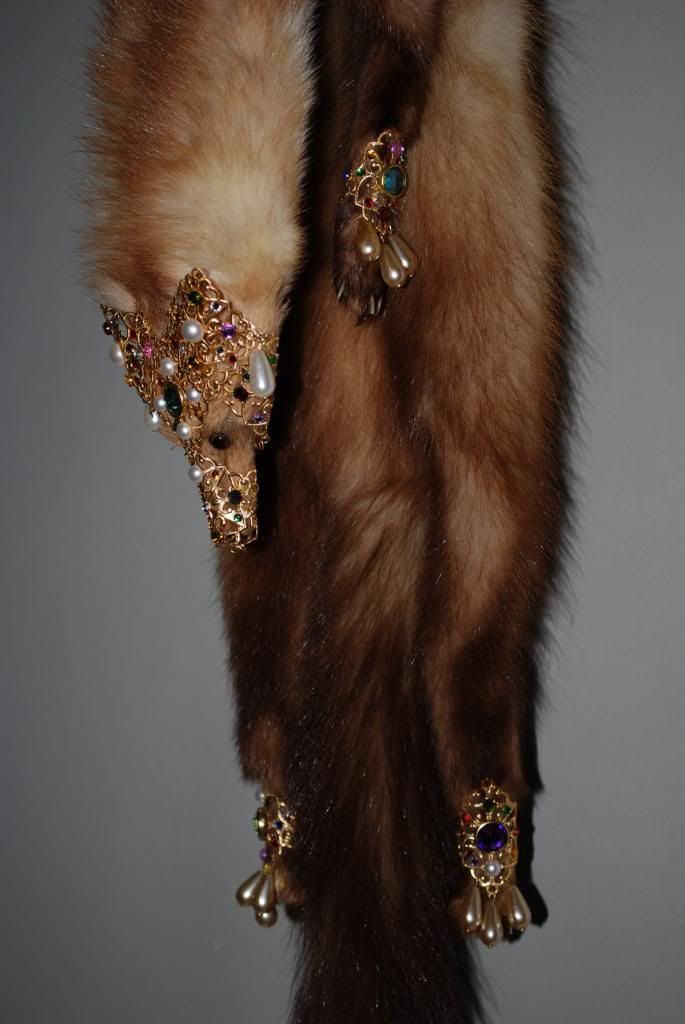 I loooooove the way the hanging pearls represent the critter claws while hanging from the arm. That looks awesome!
I am very pleased with how he turned out. He's happy to fly off to brand new home!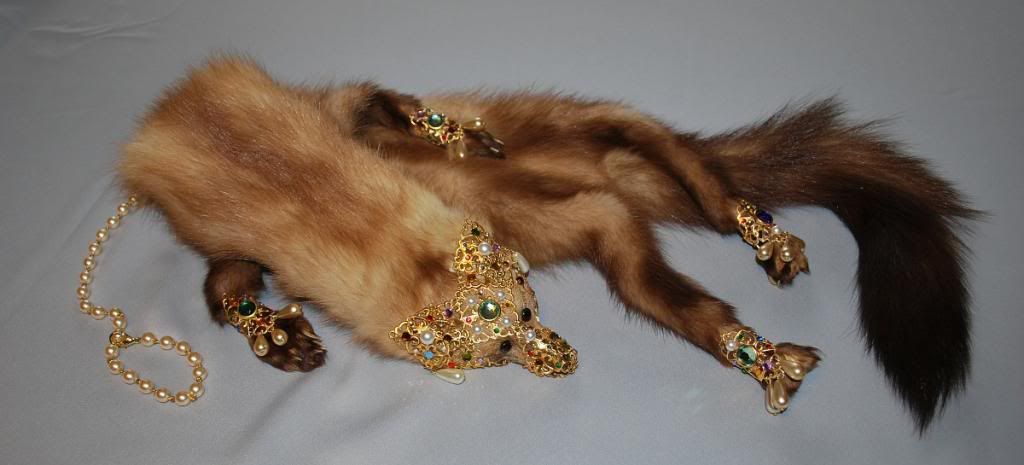 In the immortal words of , "Everybody needs a thoroughly blinged up weasel!"