Crosspost from my LiveJournal Dress Diary 11/14/2012
I was in such a rush to get this to Jamie that the procedure photos really suffered, and the final photos were so hurried the overgown isn't even centered over the underskirt. *facepalm*  But, the important thing is that it is DONE and it is GONE. I'm a little sad that I didn't have more time to fuss with it, and make sure all was tidy and perfect—but scrambling to finish on time left some finishing touches to suffer. Hopefully Jamie will be forgiving if she detects any jackassery.
I wish I could say I breezed right through making it because I'm so awesome and talented. No, in reality, this dress totally kicked my ass. I learned I am way too old for all this work-night-and-day shit. Ah, the glory days of my younger costumer self, staying up all night to finish a gown… no longer.  I crapped out by 10pm, utterly exhausted. I really can't figure out why this took me so long. I toiled all day long, and then looked back at what I did, and it seemed I did one little thing. Really? That's all I accomplished today? Why the hell did it take so long? But it really did take that long. When will I finally get it through my thick skull that THIS IS HARD? Making these types of gowns takes loads of effort to accomplish even the smallest portion of it. There are 5000 baby steps needing to be taken before a dress like this comes together. I think the next dress I make I'm going to keep a running tally of every little thing I do (live blogging the Oscars style!) so I can review it every time I say "yes" to custom work and set my deadline. And then double my estimation of it. Maybe triple. Maybe have no deadline at all. Maybe never do custom again unless they agree to no deadline. Ha! Ha! I am a fine business woman, for sure.
Anyway, back to this dress. It's not a regular Robe a la Francaise, it's engineered crazy on the inside: fully boned with a stomacher that can be adjusted up or down and expanded or contacted to fit the wearer. There is extra seam allowance for future alterations if needed. There is an under stomacher that takes all the stress and an over stomacher that just snaps on and looks pretty. The wearer can dress and undress herself without any help. It's really a complicated dress on the inside, I didn't take the easy way out at all. I should have, there HAS to be 10,000 easier ways to make a gown like this. I suppose I'll figure it out eventually.
Here are some photos from the build: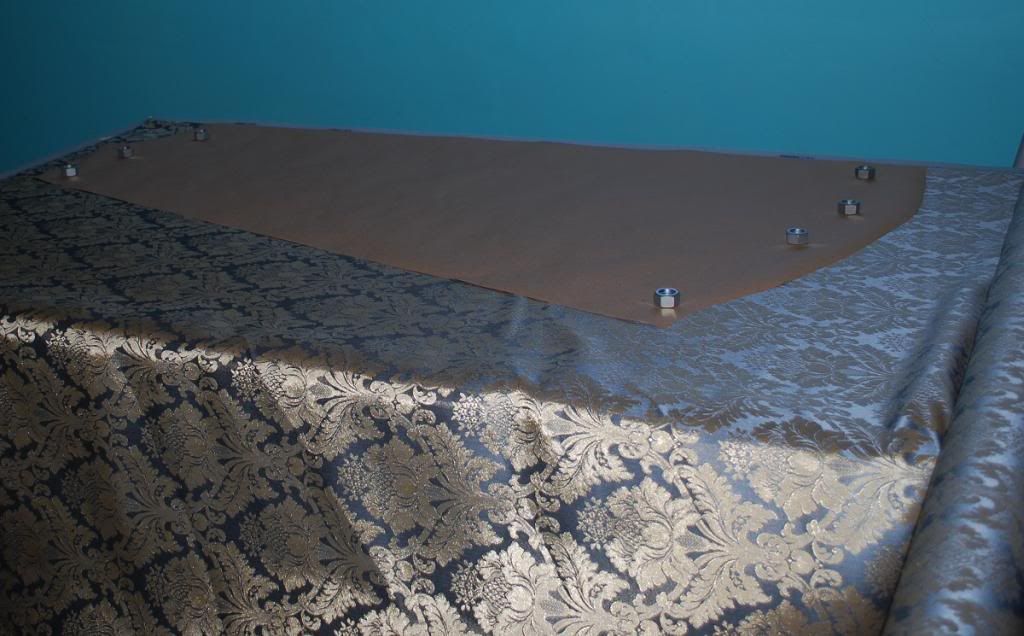 Cutting out the back of the skirt
Boning up the back of the bodice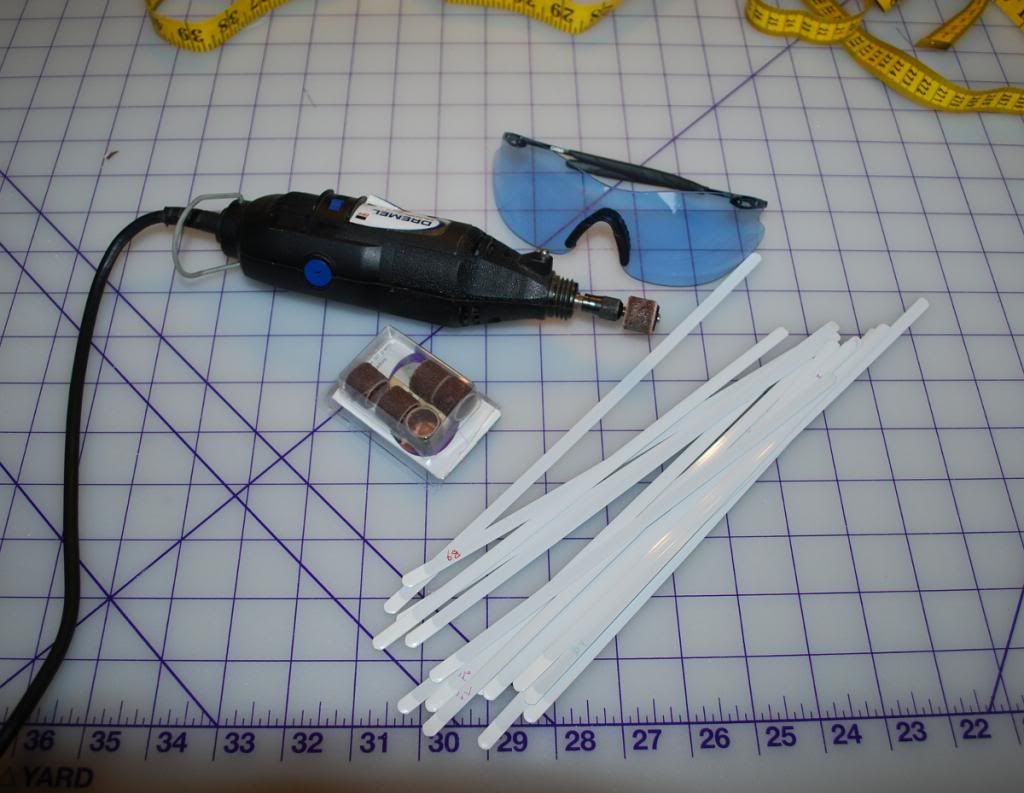 Dremmel tool to grind down the bones. Sparks!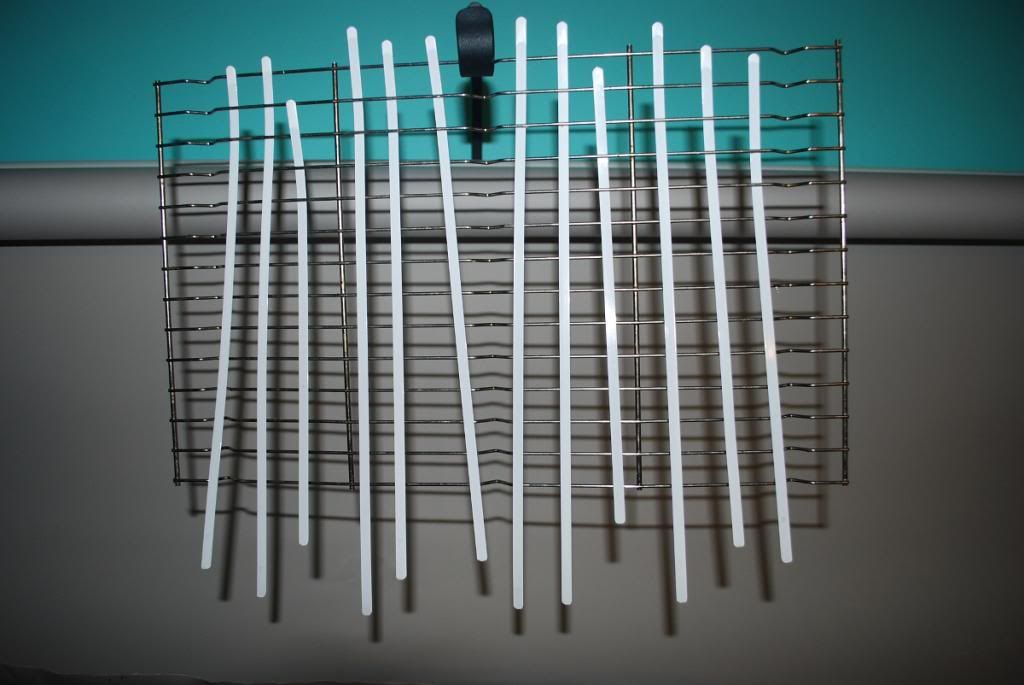 I shove all my bones into this cookie cooling rack. I hung it on a hook for the picture, but usually it is just hand held for dipping.
Then I dip each one into the tipping fluid– which I found out is just white lacquer paint– and I'm careful to just coat the itty tippy tip. I found out the hard way not to dip deeply. My carpet hates me.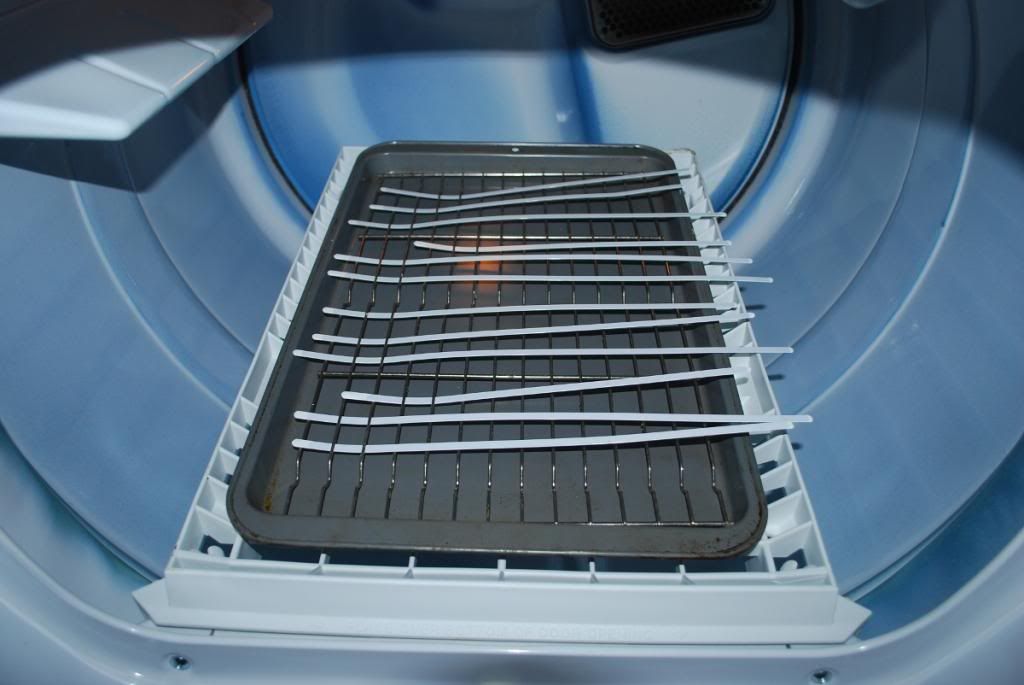 …and, because I don't have time to wait for this shit to dry, I throw it in the dryer on high. It dries in a snap and I can get on with the boning of the bodice. (That's a shoe drying rack and a cookie sheet, BTW. heh heh heh.)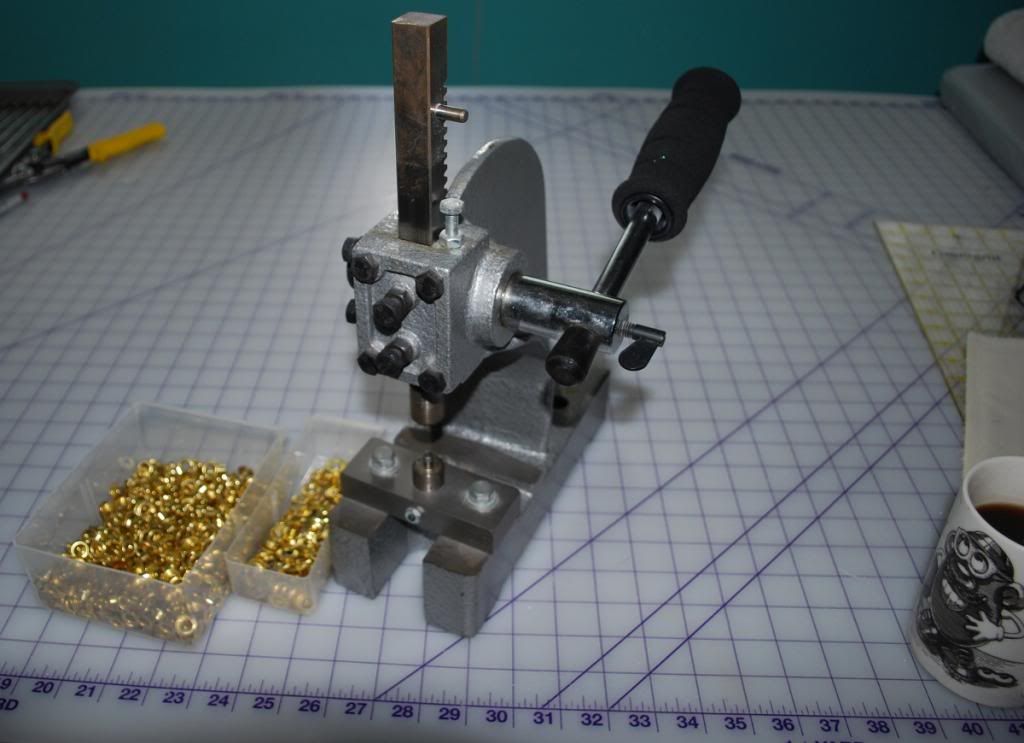 Clearly the most impressive part of this entire build is that I had a cup of hot coffee within arm's reach at all times. I like to live dangerously.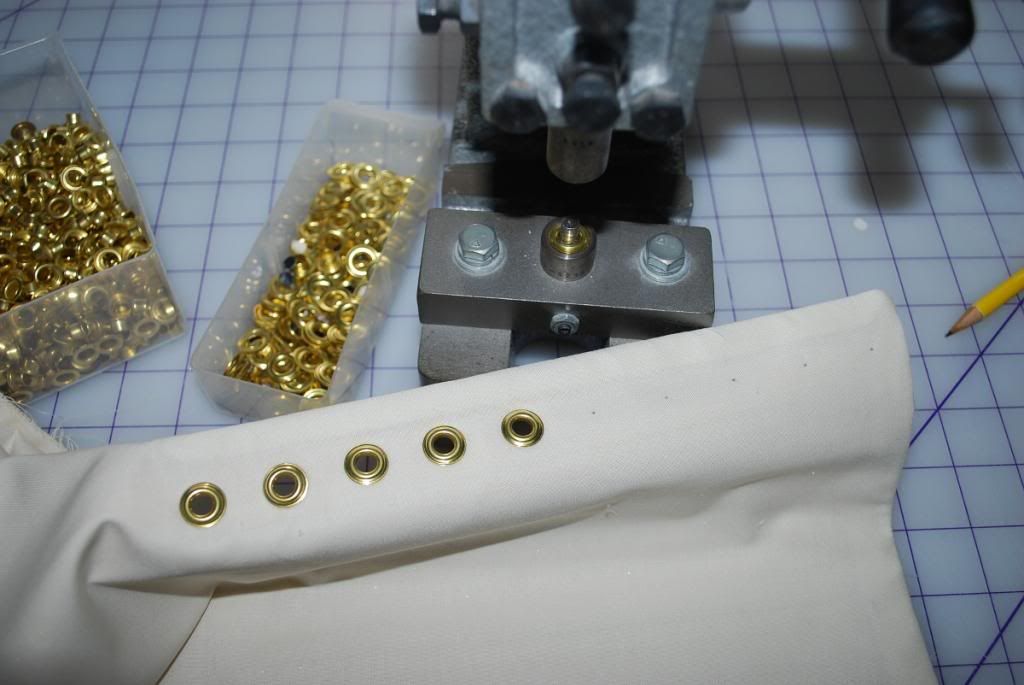 Adding eyelets with double washers for extra strength. Love my eyelet press! It's one of those huge expenses that killed me to pay at the time, but was worth every single penny.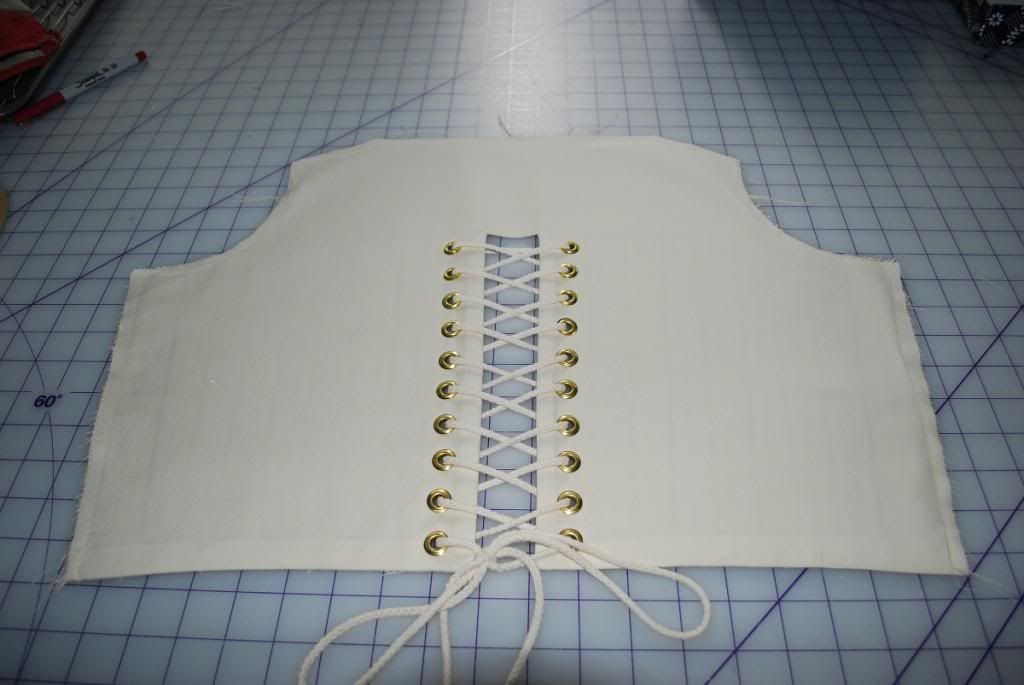 Back ready for the saque. I love the hidden laces for extra adjustability, makes accidently getting a little fat no big deal!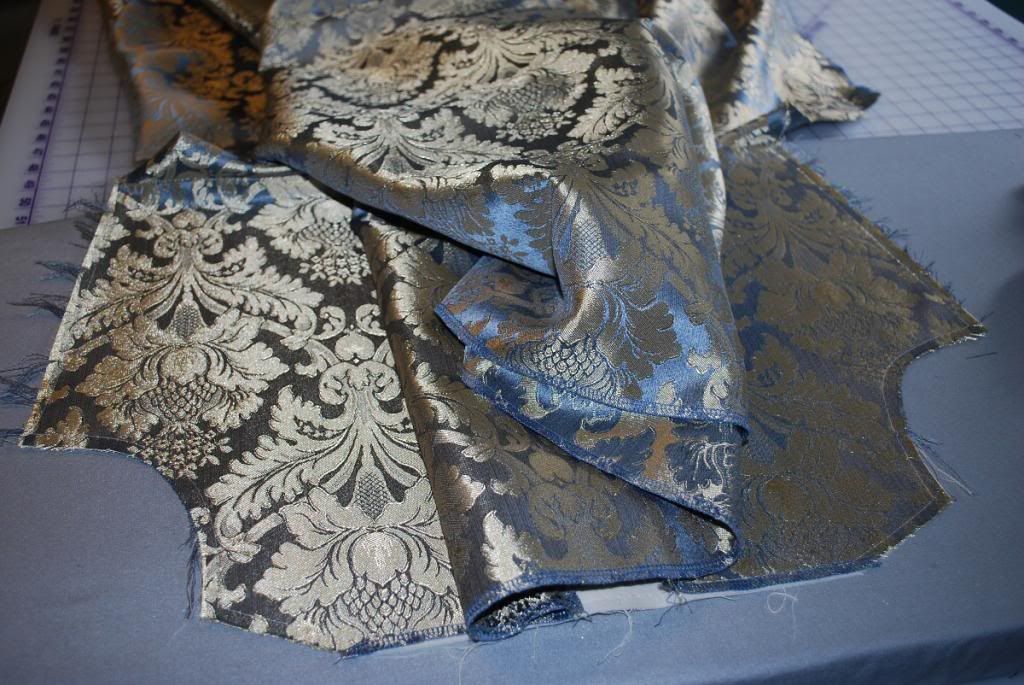 Pleating on the saque back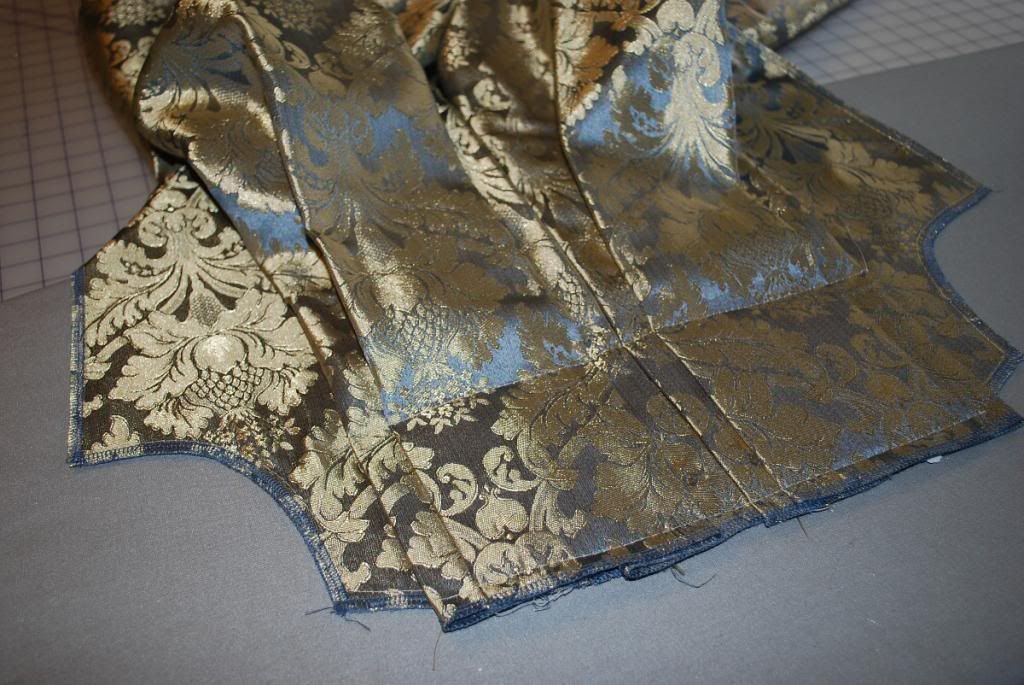 All pleated up and sewn down with a temporary line of stitches– this helps keep everything in place while I hand sew a second line in roughly the same place. (Every edge had to be serged, this fabric frayed like a mo-fo!)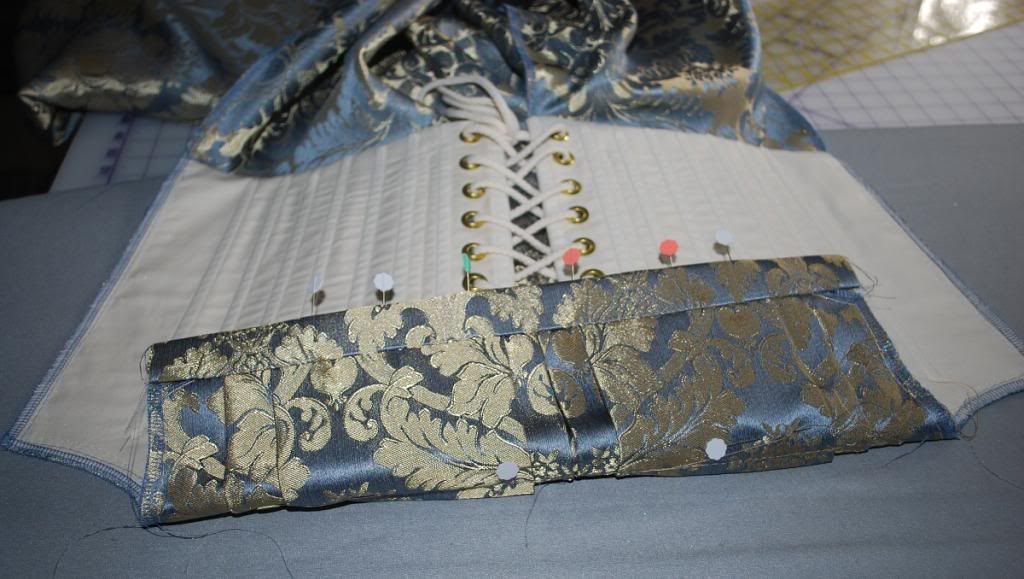 Adding the binding across the top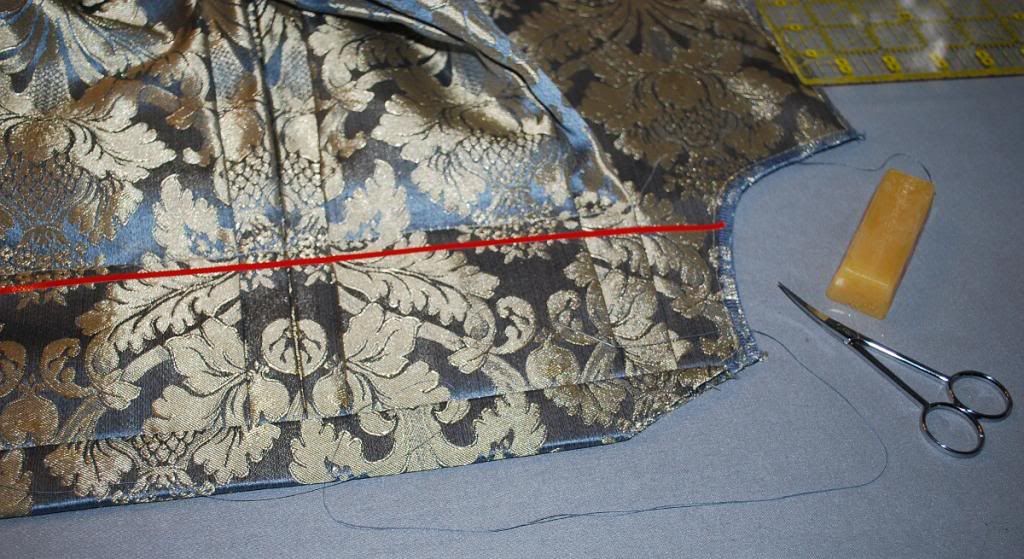 Drapers tape marking where the hand stitching should be. I freaking love this tape– it's actually a thin slice of colored duct tape. SO HANDY! You need this in your sewing room. PGM Drapers Tape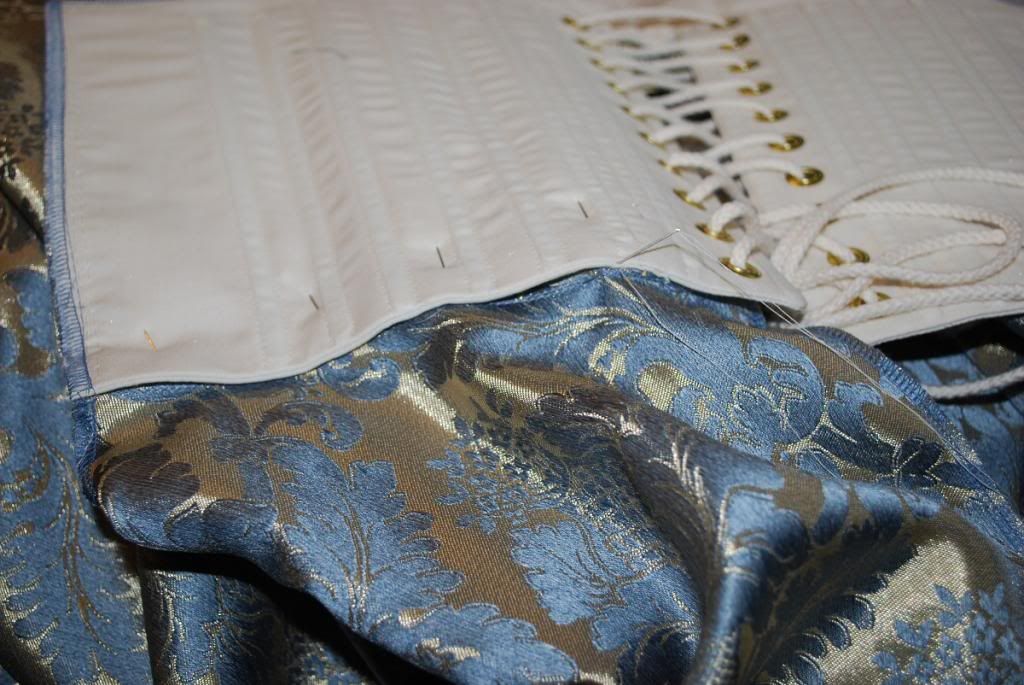 Hand sewing the lining to the saque back.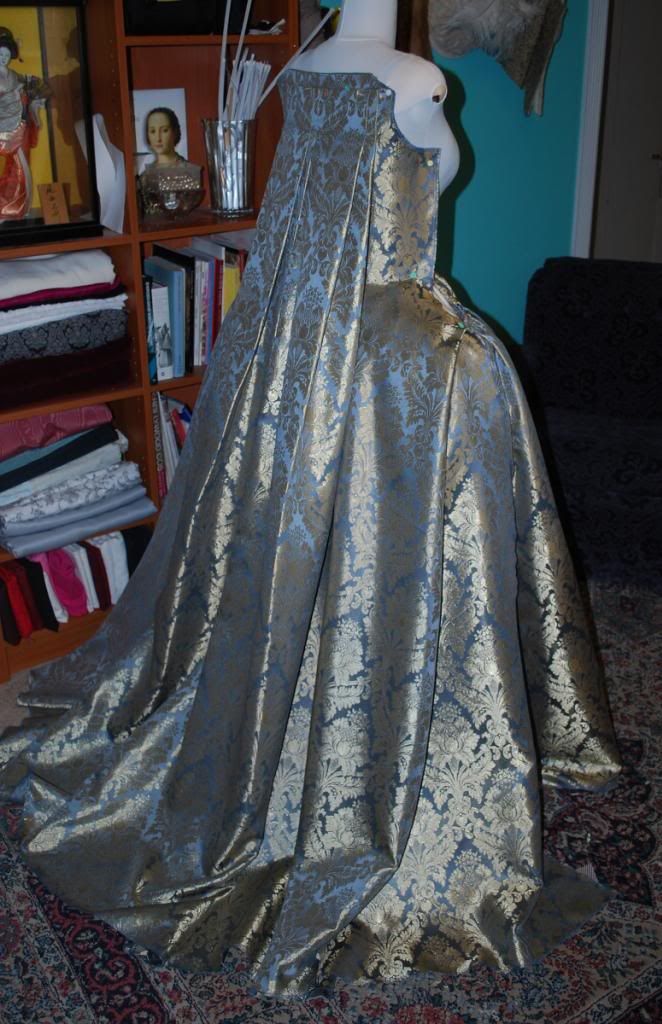 Back is done!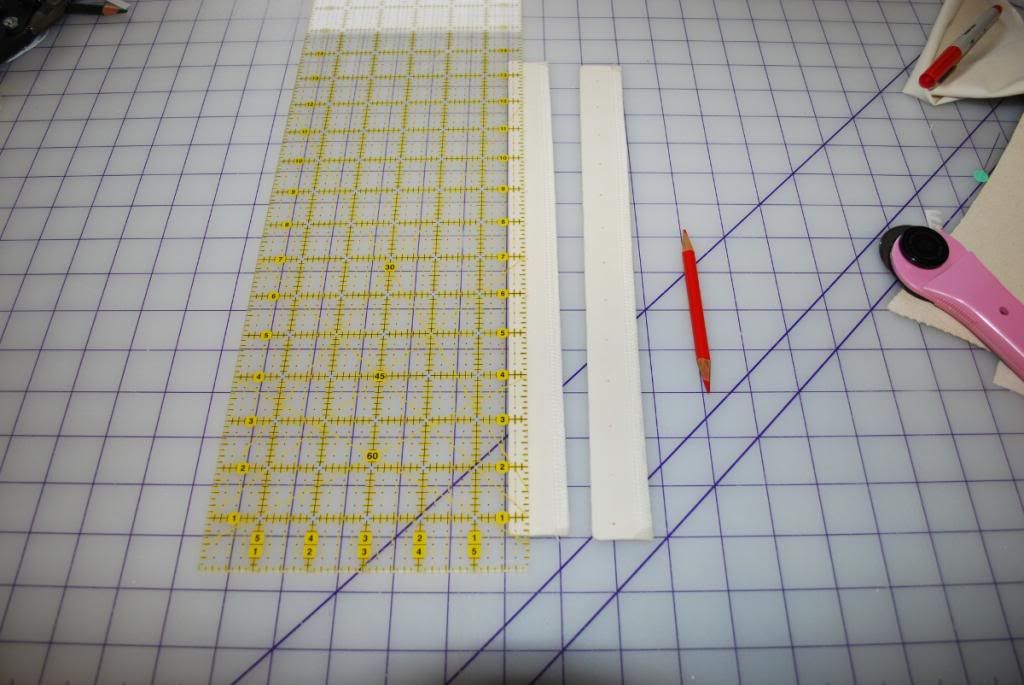 Markings for eyelets on the hidden lacing strips.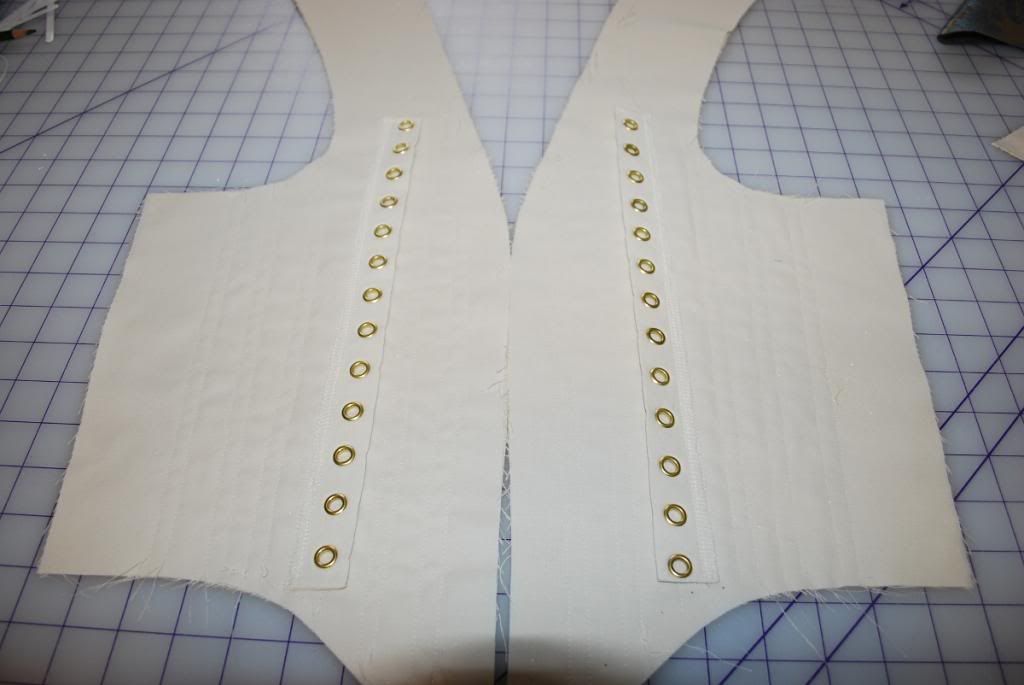 Lacing strips added to inside of front bodice. Of course one was punched backwards and so I had to monkey with it to line up. Dammit.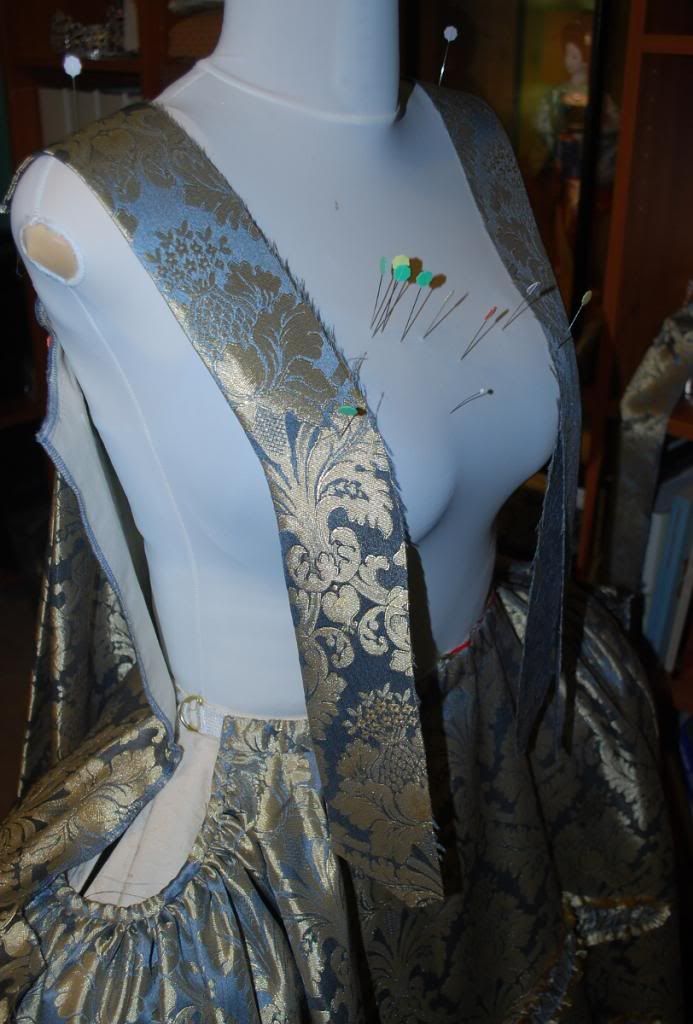 Fitting the revers. Freaking revers. Those jerks blew out the front bodice seam because I was a fool and trimmed the allowance too close when grading the seams. There may have been sobbing. Anyway, my Hawaiian Quilting skills came to the rescue and I was able to very meticulously needle tuck it all back in place with an applique stitch and then I loaded on the Fray Check to hold it so it didn't happen again. WAH!!!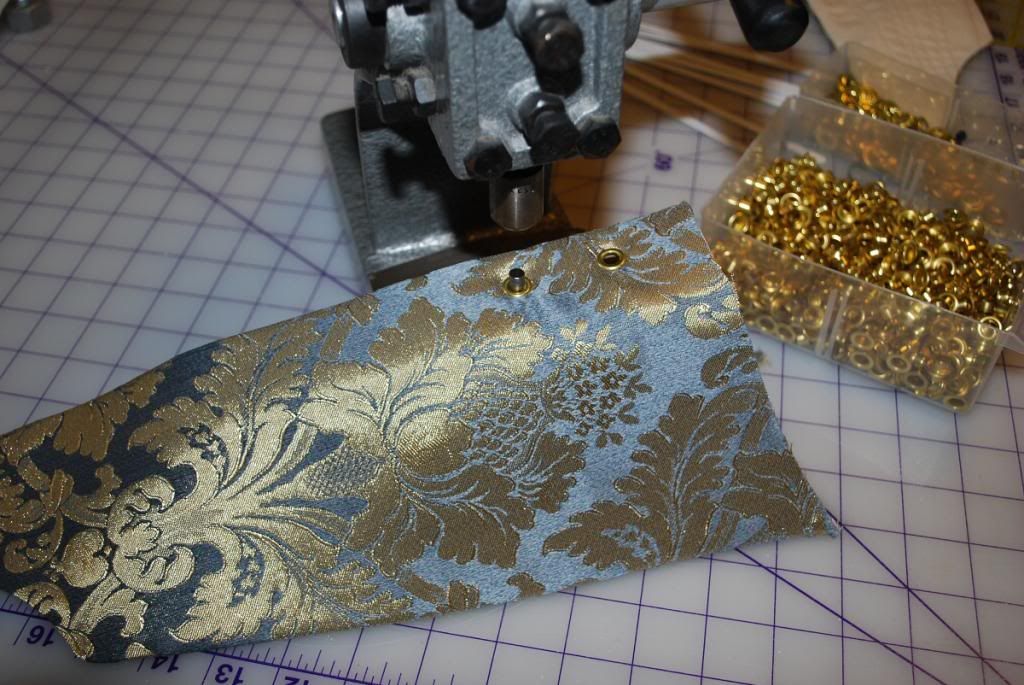 Adding eyelets to the under stomacher pieces
Under stomacher
Making furbelows for the front skirt (and more raw material for blue zombie cats.)
Ready to ruche up the furbelows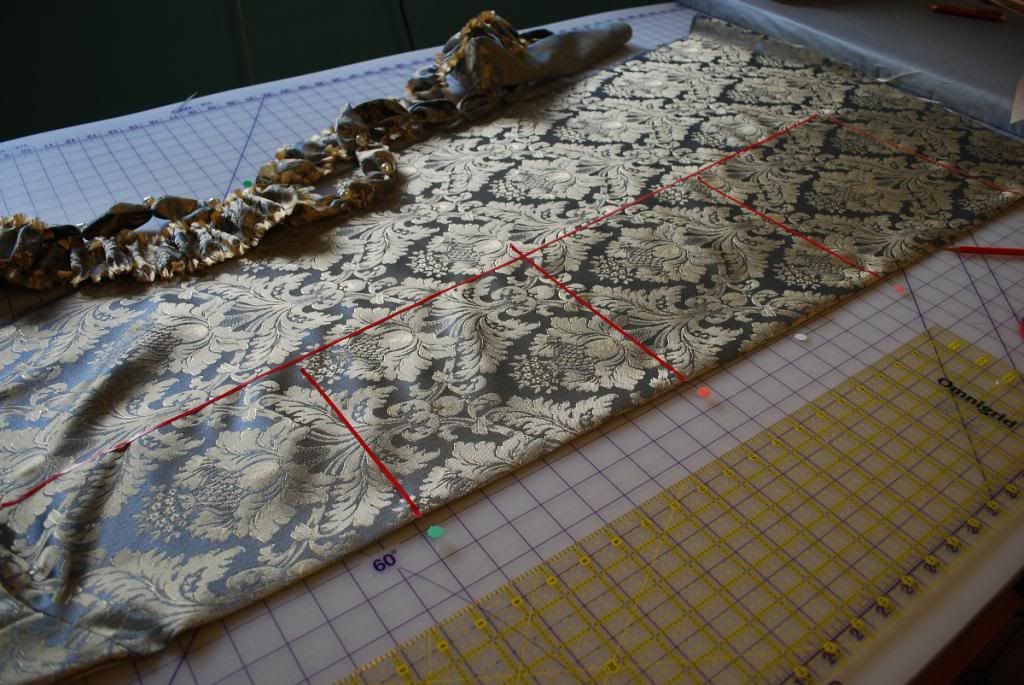 Marking out where to place the pretties– more draper's tape.
Really not liking those ruched strips. They look so– so– amatuerish. Uneven. Ham-fisted. I undid them all and found a better way.
Ruffler! Did a perfect job and did it super quick, too.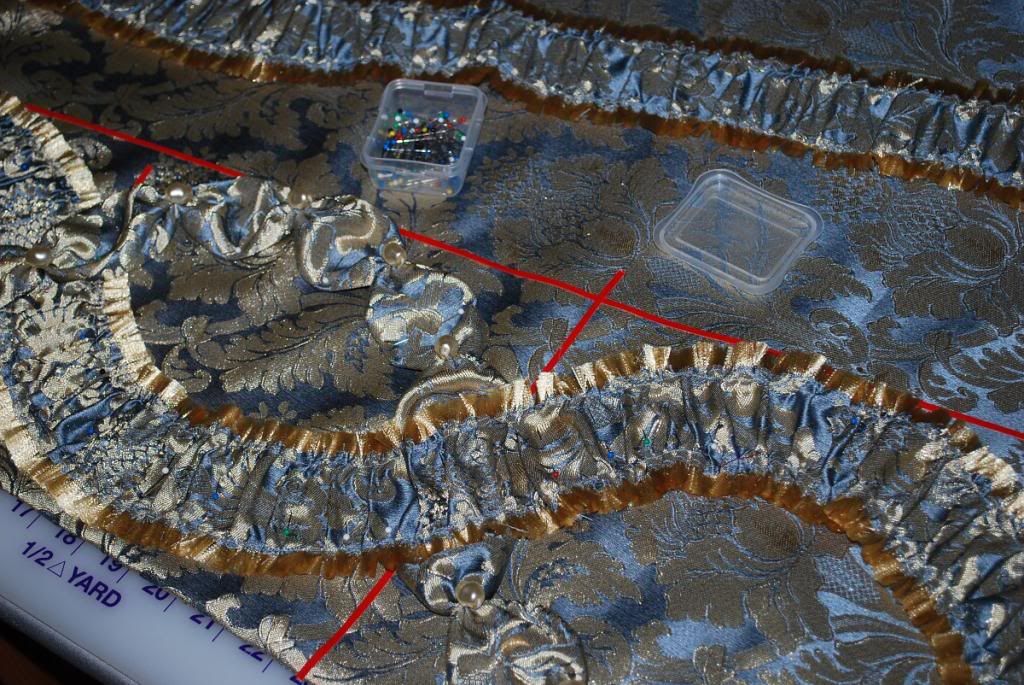 Ah, that looks better. Pins pins and more pins. I ran out of pins.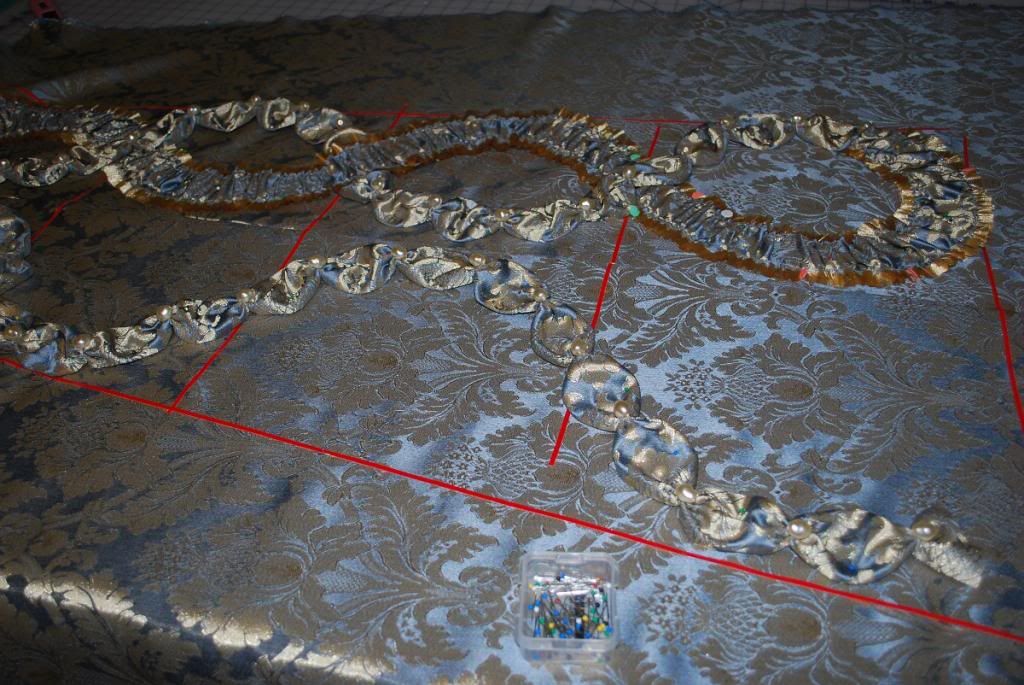 Making both sides match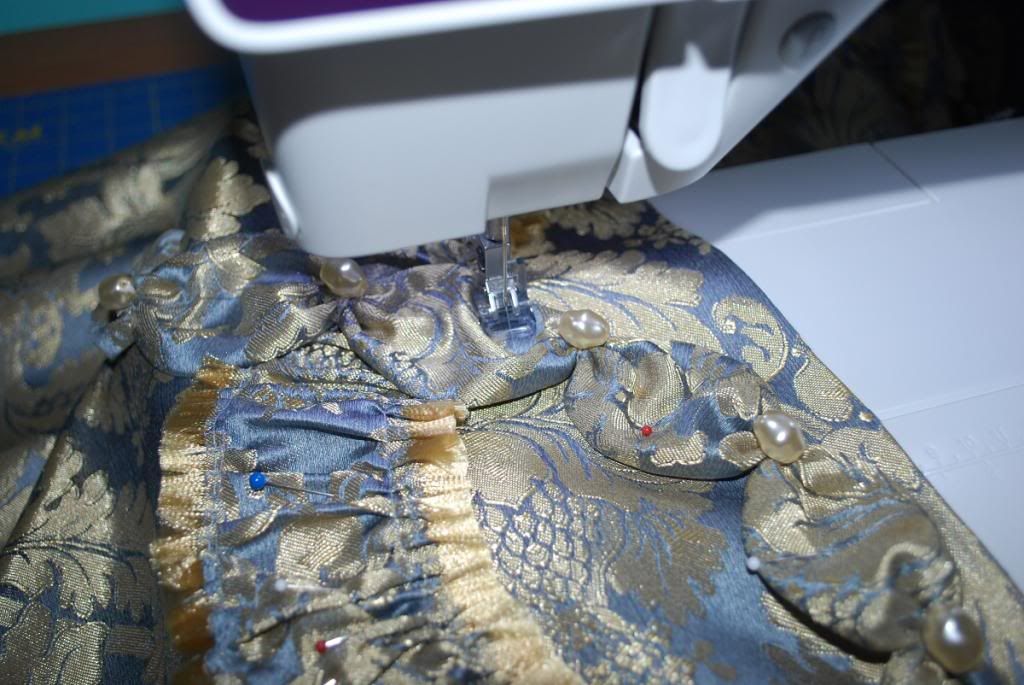 I figured out a much better way to sew these suckers down: the free motion foot. The pearl poofs got a few tiny zig-zag tacks each, and the ruched strips I just kind of floated over with a large straight stitch. Didn't crush the gathers or push them one way or another. The top stitching all over them is kinda messy and ugly looking, but you can only see it upon close examination… and the wearer should slap anyone that close to her ruches anwyay.  I wish I had come up with this for the underskirt! Not really happy with those ruches, but too late now.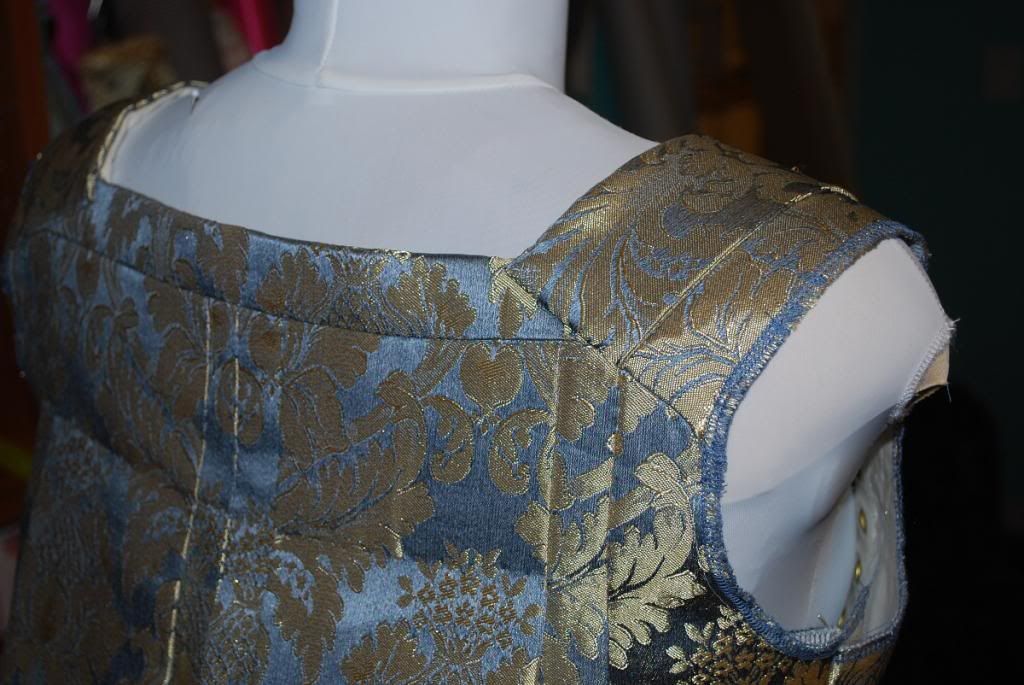 Attaching the front to the back at the shoulder. Tsk tsk it was so thick! I also didn't cut the shoulder wide enough to meet up properly. Thankfully those pearl poofs will cover it up!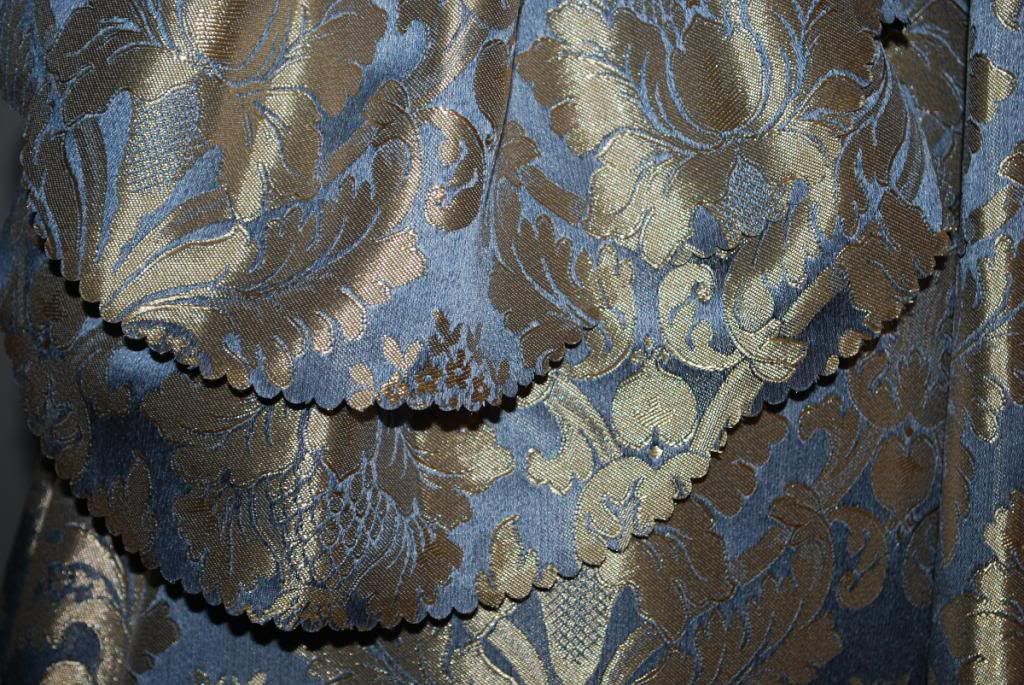 The flounces I had to really think about how to do. Everything was so thick and heavy already, I couldn't stand to add lining and I couldn't figure how to cut them to make the fringe (only on the weft) and how to make a teeny hem and add ruches and my brain was melting trying to figure it out. Finally I just doused the edges with Fray Check, let it dry to a stiff nearly invisible barrier and then cut them with my scallopped scissors. Turned out brilliantly, I believe. You can still see the fray check a little bit, but only close up. I got high from smelling so much Fray Check, but whatever.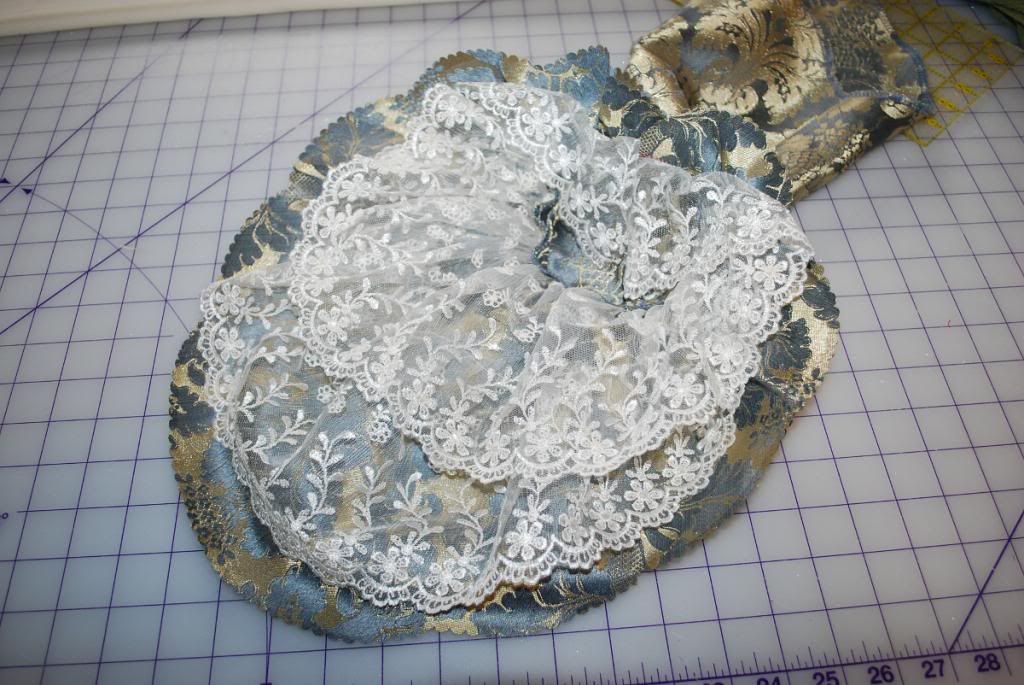 Flounces! They are perfect and beautiful! *waves Jedi hand in your face* Yes! Perfect and beautiful! You have no need to inspect them closely. You don't need to know that I completely screwed up and had to sew a second flounce to the first flounce after the first flounce was already set. I was drunk. No, it was a monkey. It was my evil twin who wants me to look bad. Yeah.
Prettying up the sleeve cuffs. OMG it was so thick. A lesser machine would have belched smoke and exploded.
Adding the snaps to the under stomacher. Used the draper's tape to hold it precisely in place while I used the free motion foot again to tack it down with zig-zag stitches. Man, I hate hand sewing snaps. I had to hand sew the matching halves onto the actual stomacher, and those fuckers kept snapping my thread. Even the industrial strength upholstery thread I moved to after much frustration. I should have machined them on before finishing the stomacher, but, well, you know. Hindsight and all.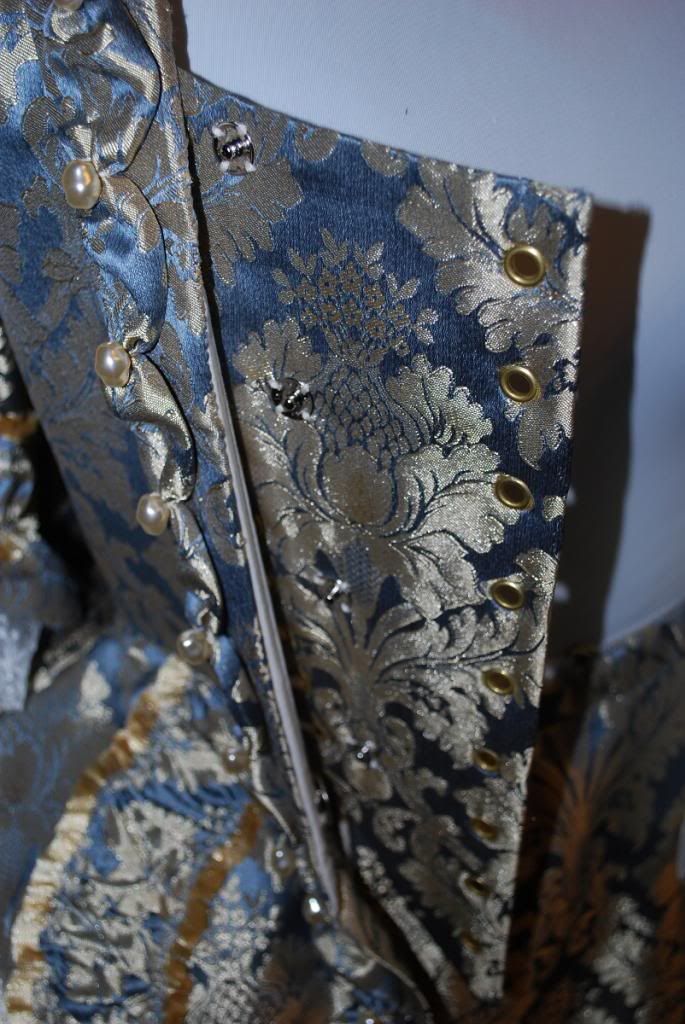 Under stomacher. It laces up the front so the wearer can get in and out of it by herself.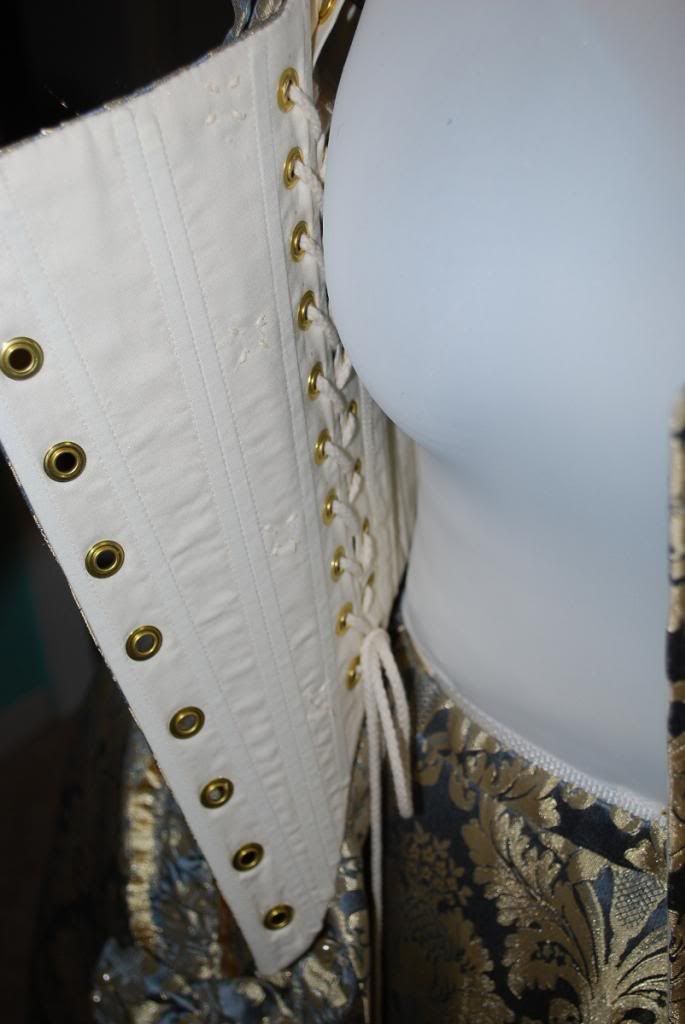 A peek at the inside. Those side laces can be let out a little or laced higher or lower for whatever fit is needed.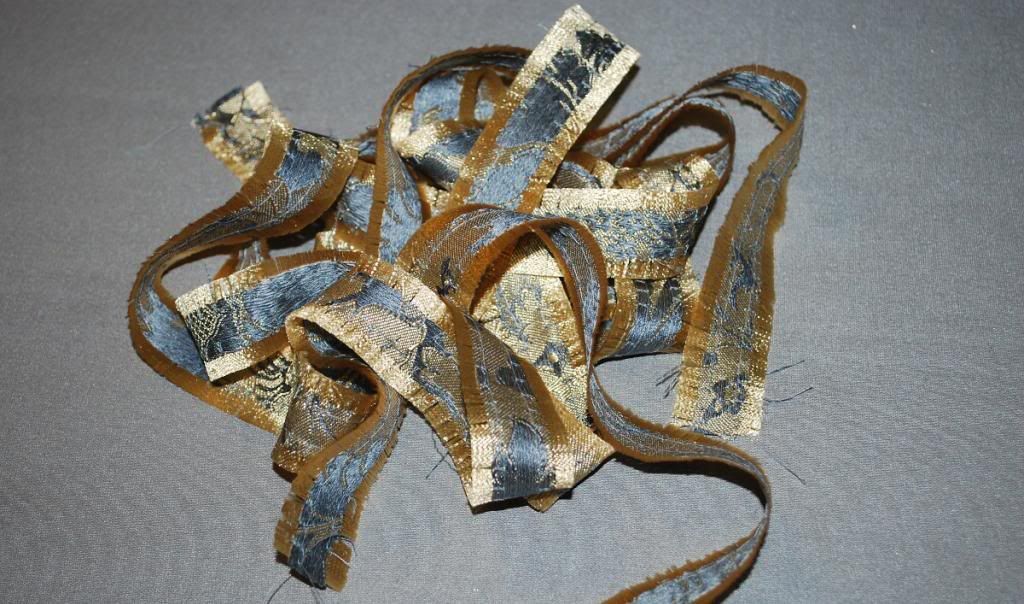 Skinny little strips for the stomacher furbelows.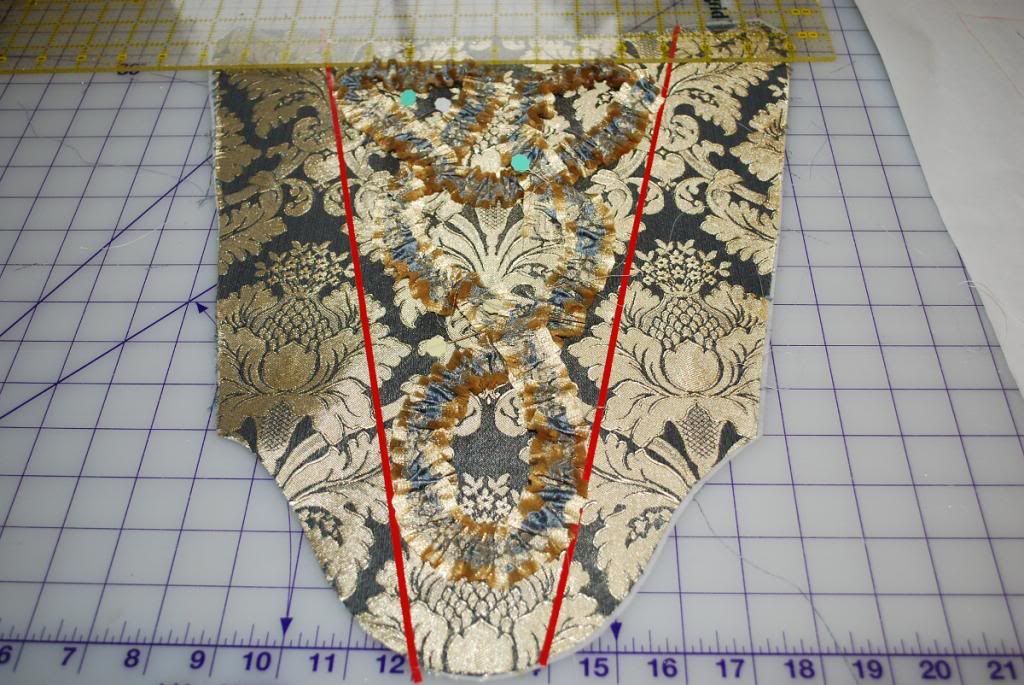 Figuring where to put the ruffles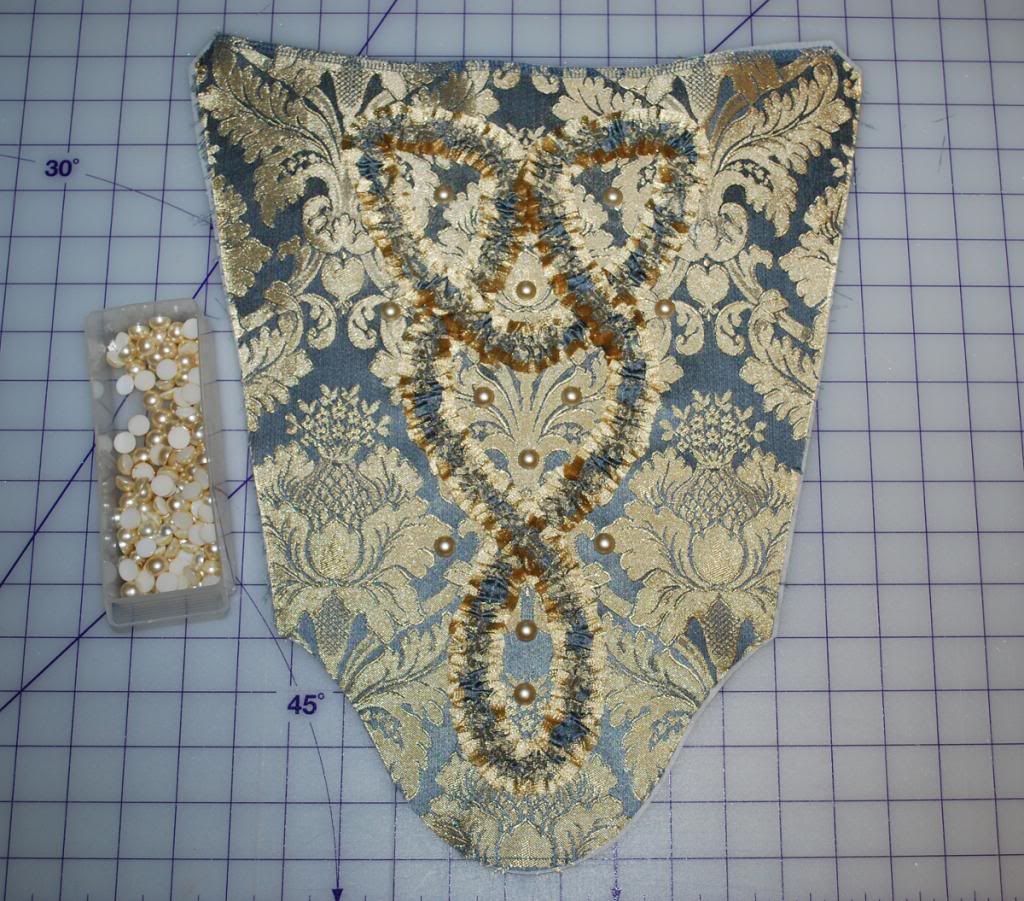 Where to put the pearls?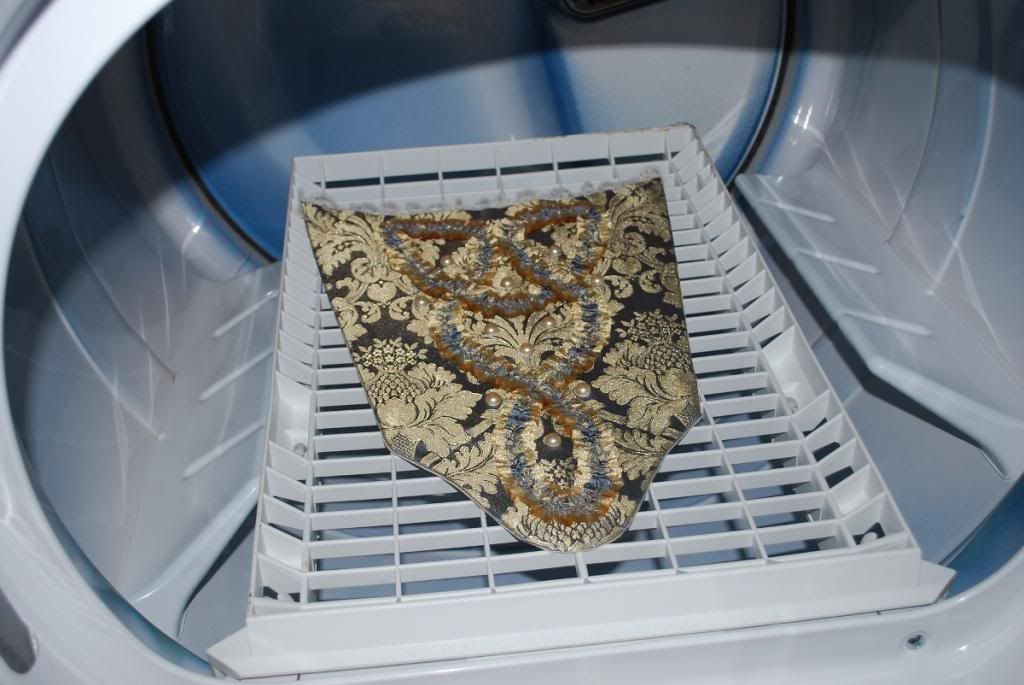 Yep, that got tossed into the dryer, too. Don't have time for glue to dry naturally!
******
Finally, all put together– here are the photos I took in world record time, I had to blitz it to the post office to make the Overnight Express cut off. I'm kind of sad about that, as some of these pics are really sub par, but I really had to hurry. I really hope that   likes it, and that it fits her actress and doesn't cause her any wardrobe malfunctions on stage. *fingers crossed*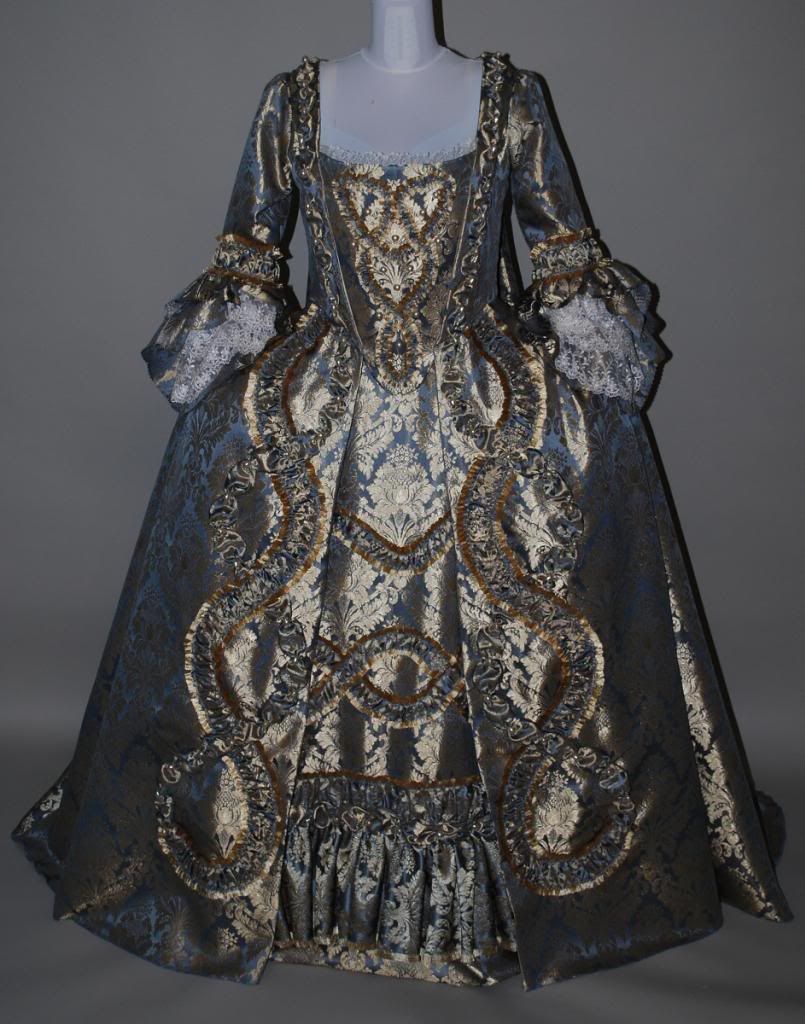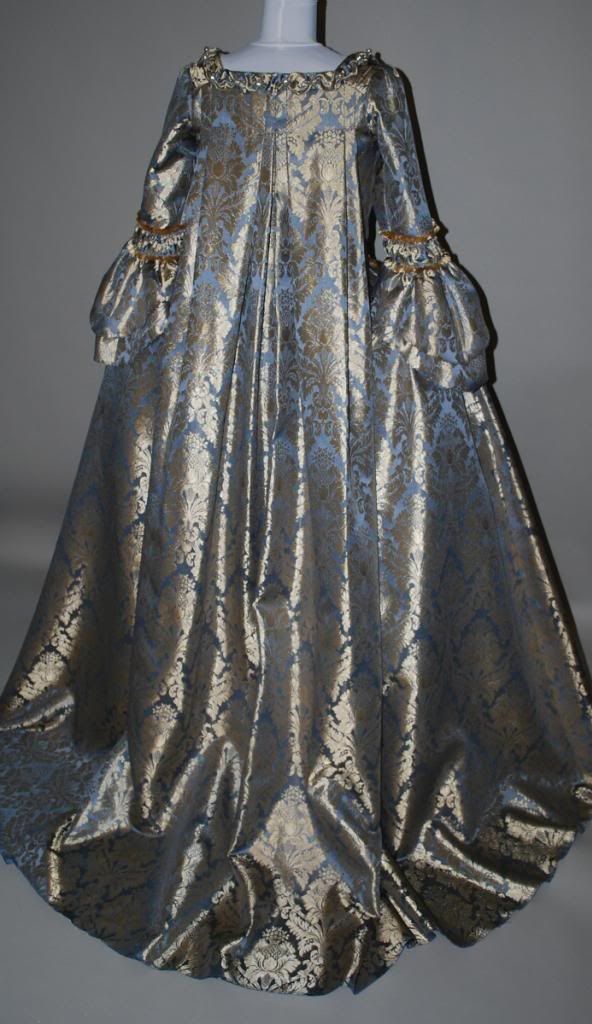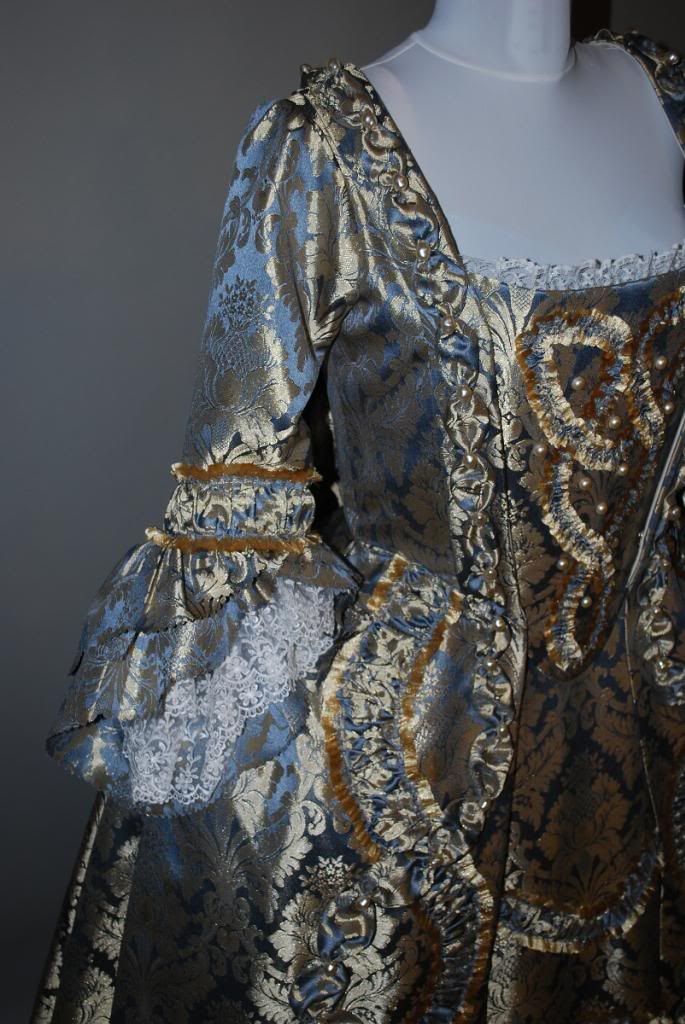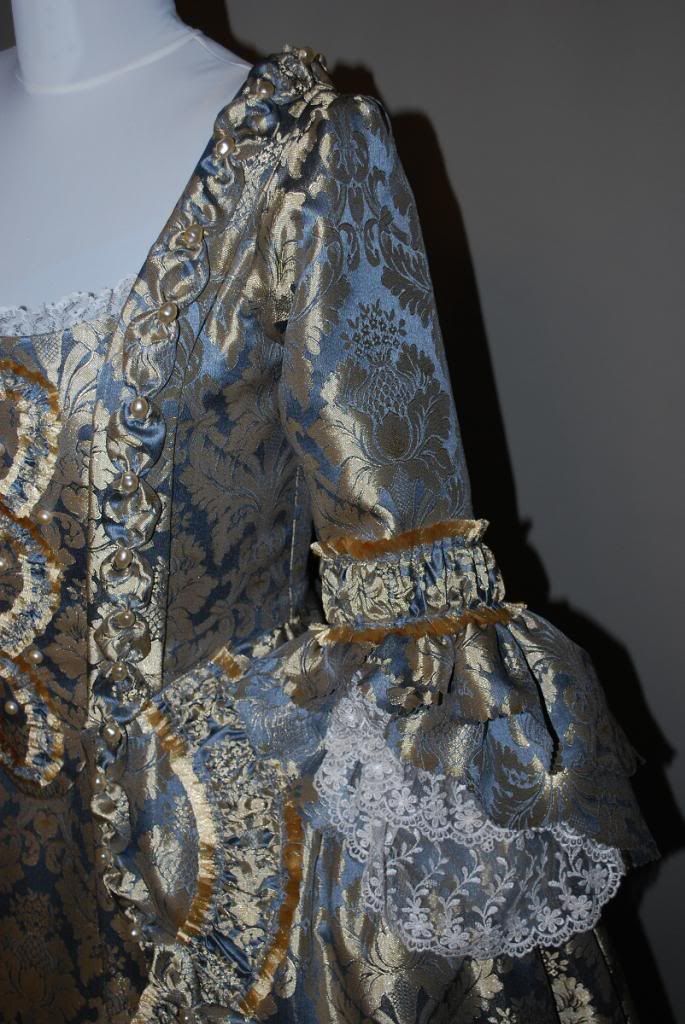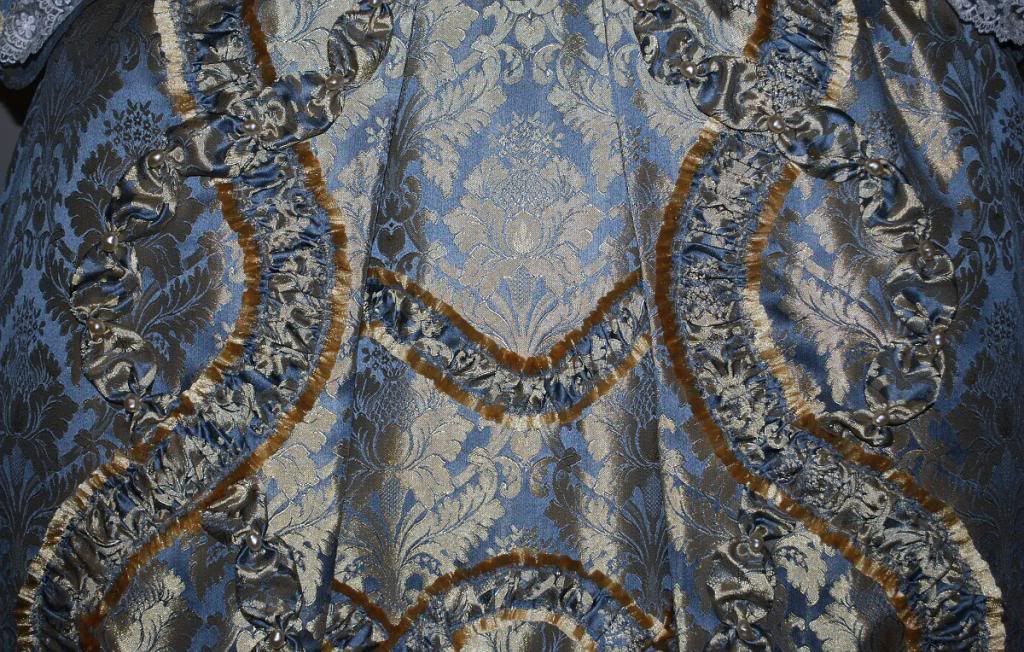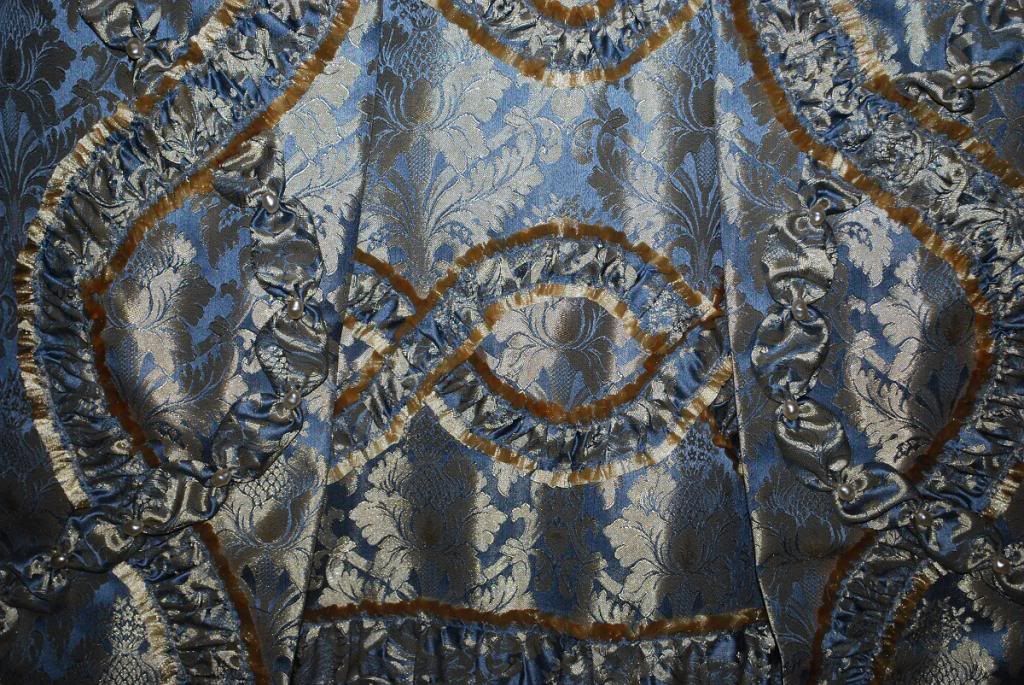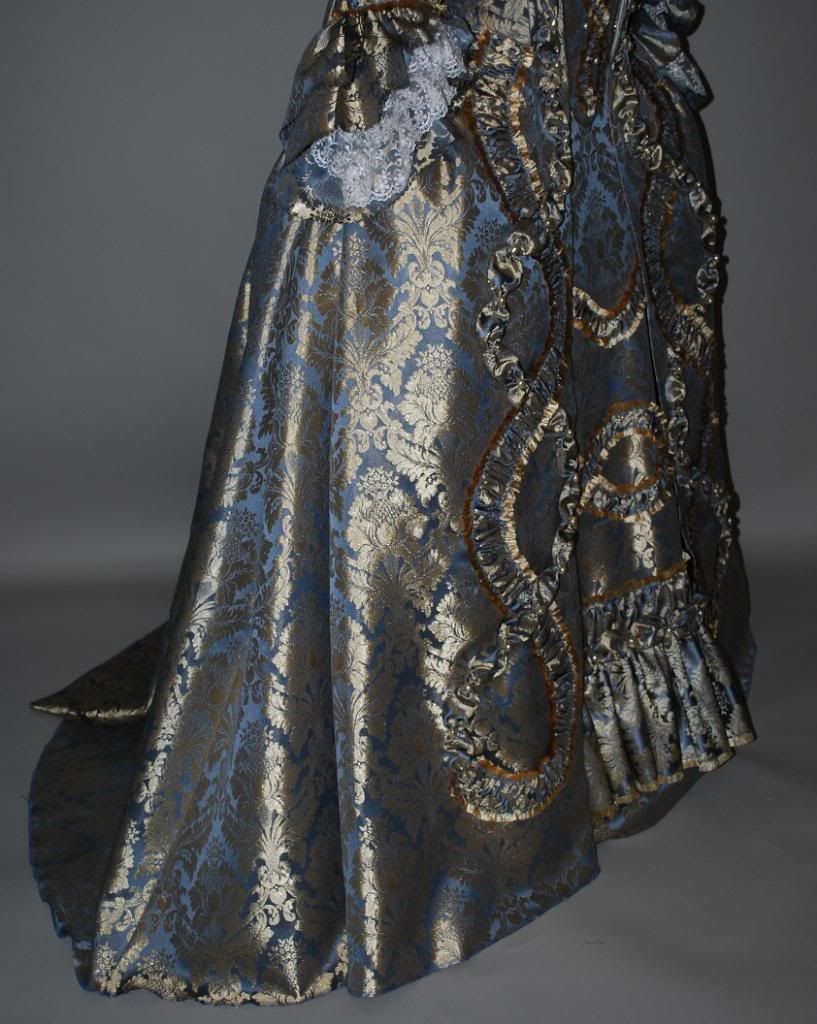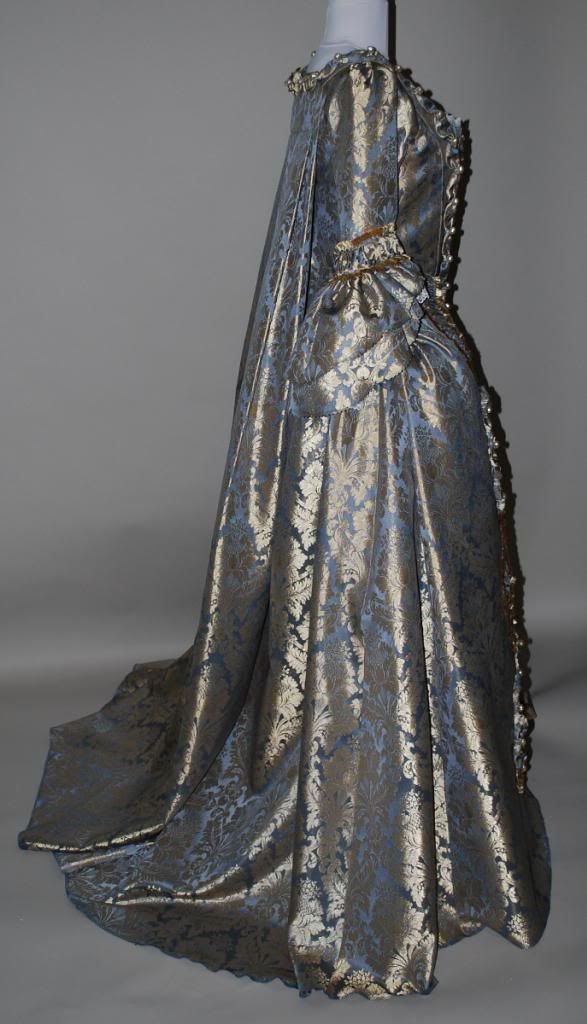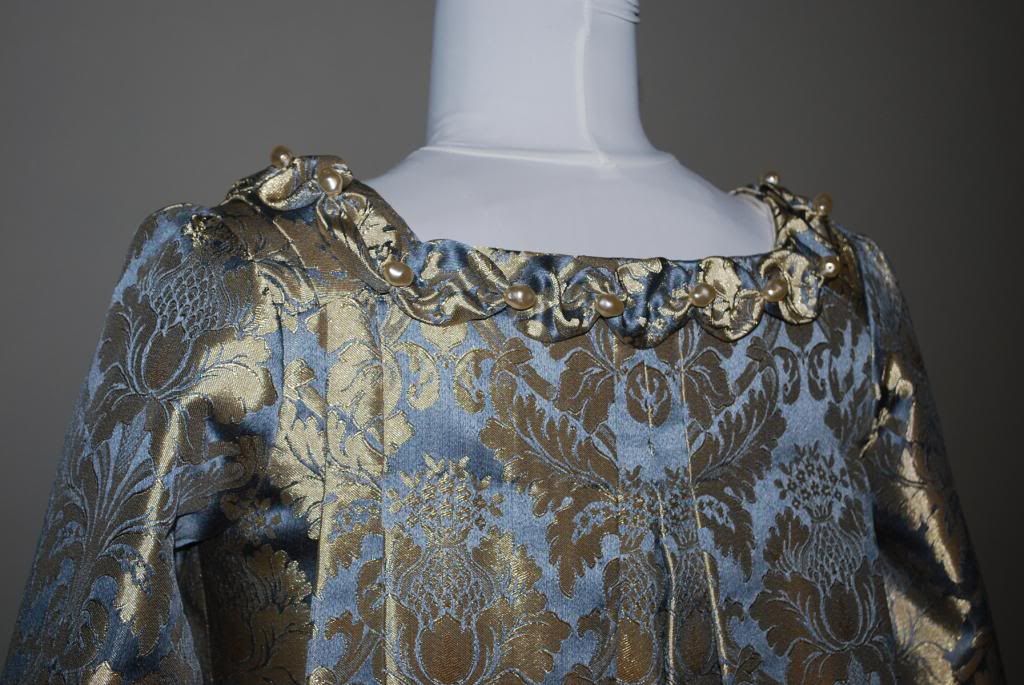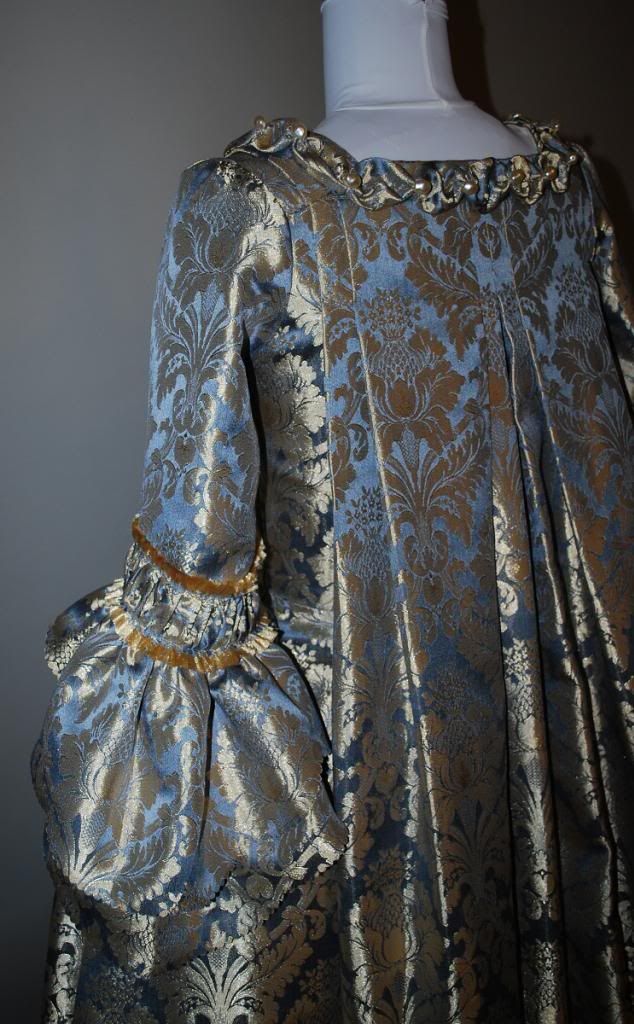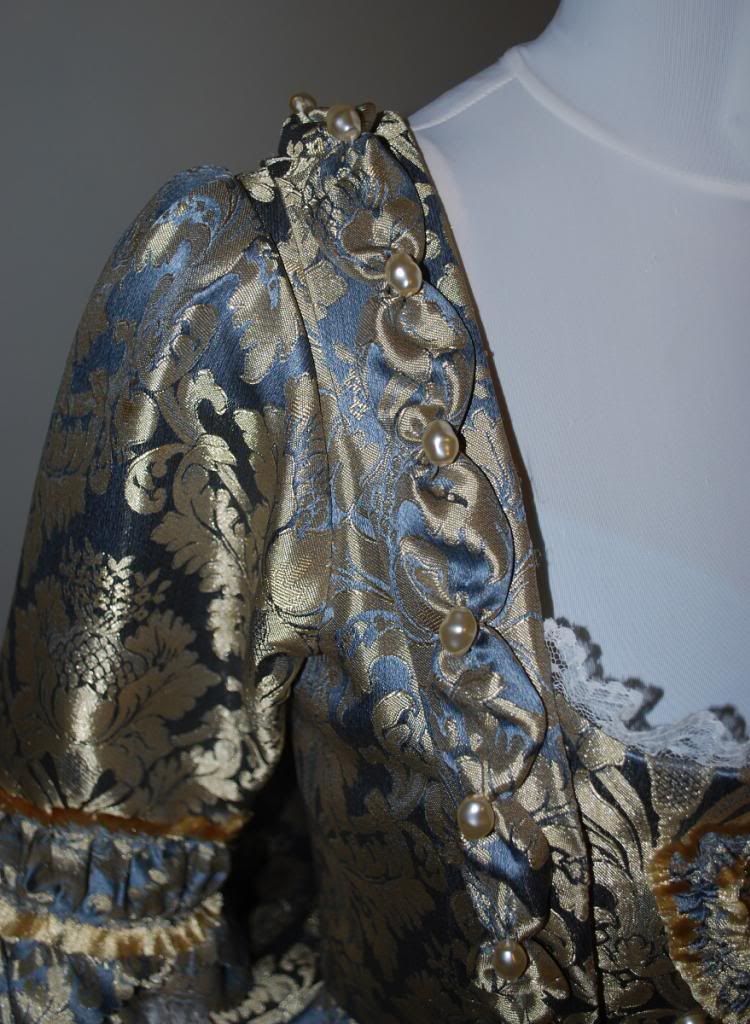 Notes about this build:
I will never, and I mean NEVER EVER, use anything but the lightest crispiest fabrics for dresses like this. Being thicker fabric, it made creating this gown a billion times harder than it should have been. This motherfucker weighs a ton, and I hope it doesn't kill my actress. Good luck, Janet!
I need more pins! There's probably about 100 stuck in my carpet. I should just recover those.
Fray Check is my best friend.
I'm never hand sewing snaps again.
I really like the d-ring belting on the pannier and underskirt.
I will never ever grade seams too close again, they will fray out and make me cry.
I really need to permanently attach my stylus, some thread snips, a seam ripper, awl and measuring tape right there to the sewing machine. Maybe drill a hole in the desk and chain them there. They always disappear when I need them most. Hate that.
I absolutely cannot work with a deadline. I really can't. My home life suffers terribly, my house becomes a pig sty, my family has to eat quick frozen meals and I miss out on a lot of fun. I need to own up to the fact that I am a slow ass sewer and what I have designed in my head to make TAKES A LONG TIME TO CREATE.  I need to think long and hard about how to handle this, because I love to make the dresses, people love to buy them, and there has to be a happy medium somewhere. I will find it.
Many thanks to   for allowing me to make this dress for her! It was a huge effort that stressed me out at times, but now that it's done, I feel so great about it! I really love what I made. I hope it works out for her.
…and, most importantly, I am really happy that I never spilled my coffee.