Crosspost from my LiveJournal Dress Diary 2/27/2013
I made these a few weeks back, but I'm getting ready to build a gown over them, so I thought I'd show them off. Pretty, yeah? I LOVE THEM!!
I used one of the stitches in my machine for a little decorative oomph; I think it turned out rather well! I used a pale peachy pink Floriani embroidery thread.
Yes, this was a total STASH BUSTER project. I think I've had this moire bengaline hanging around for 10 years.
The color scheme reminds me of Boucher's Madame Pompadour!
Three rows of ruffled cream raschel lace and three strips of embroidery on the boning channel.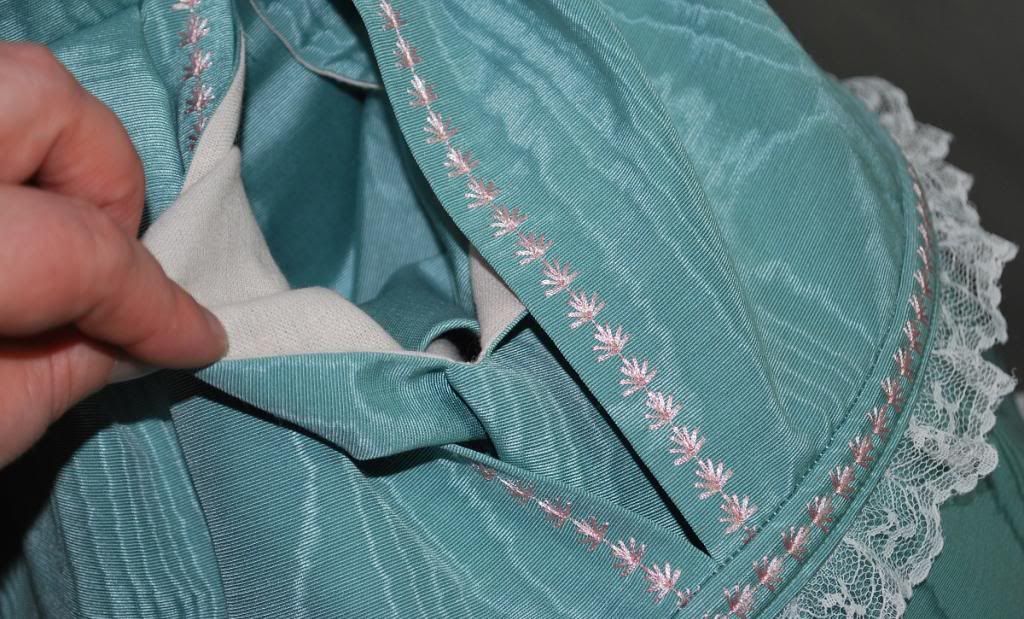 That's a pocket attached inside. My friend Lucia, whom I am making the gown for, is a performer. I thought she'd like to not keep track of a separate pair of pockets.
Here's the pocket pulled out of the barrel. It is attached right at the waistband and hangs inside.  I used a lining to create the slit instead of a binding. Was quicker and easier, plus made the pocket a little more durable.
Yep, D-rings and belting again– my favorite! But, I bought a wimpy cotton belting– not liking it! Needs to be more stiff to really do a good job.
All collapsed down, nice and neat! I love pocket hoops!
Upside down so you can see the bottom. I've made enough of these now that I am finally honing my skills and they are getting progressively better… picking up little tricks to get that drum tight! Maybe after 10 more I'll finally get it right.